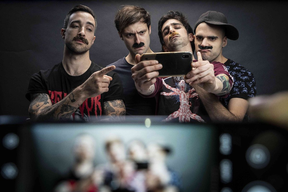 PARLOR is the urgency and the die -hard chaotic hardcore confronted with a punk catechism: refusing any compromise and never farting higher than your ass. So since 2016, PARLOR has been spreading its sound explosions as much on the borders of noise as of post-hardcore.
An album and a pandemic later, PARLOR is back with a new EP: Comments. Prelude to an upcoming long-format, this one will be released on October 15th via Source Atone Records.

 Claiming the heritage of cult groups such as Converge,  Botch and  Breach, the Parisian quartet quickly stood out, notably in the company of Implore  and  Conjurer or even on the occasion of its visit to the Neuronoise festival in Rennes and the Paris Hardcore Fest. After Zamizda t, a first demo butchered in 2 hours on a 6-track tape recorder, then a first album, Softly, PARLOR continues with Comments.