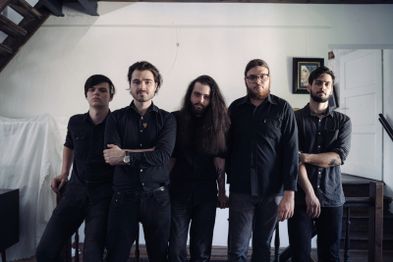 All of Mine is a young and ambitious band from Western Germany. They blend post-hardcore with alternative rock and shoegaze. Their music is energetic, yet highly atmospheric, always melancholic. Their songs tell stories of love, anger, grief and sadness. Those emotions are the foundation of their debut album Zerfall.
The record, which they produced DIY, will be out in 2022 and draws influences from Casey, Idles and Karnivool, but also from heavier bands like Daughters and Deafheaven. Zerfall is made with passion and offers so much to discover. With abrasive songs like Arcadia, or softer moments like in Casualty, Zerfall is a sonic experience.
Lukas Song
Lukas Song is the first single of the debut album "Zerfall". It's probably the catchiest song of the whole record with the only song actually featuring a chorus thatcomes more than once. The song is pretty fast and energetic, with a clean section at the end. The song features both harsh vocals and melodic clean singing. 'Lukas Song' features different influences, from post punk bands like Have a nice life and Idles, but also, obviously, post hardcore bands Like Casey and such.
---