Self-proclaimed "world punk" band QUEL BORDEL! Has gone outside of their usual wheelhouse and ventured into the world of instrumental gypsy jazz with their new album Dinner for Derelicts.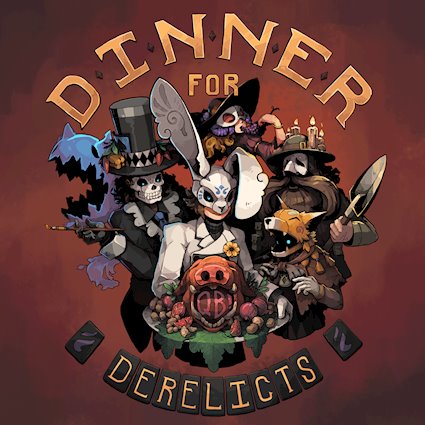 The band is also releasing a multi-song dinner video to accompany much of the album. "We figure there's enough shouting and screaming going on in the world already right now," says frontman Jakovich. "So we wanted to give our fans some chill music to have dinner to and give everyone an excuse to just chill out and enjoy each other's company. We all could take a moment and just vibe out to some sweet tunes over a good meal." This doesn't mean that the band is changing its style permanently by any means. Jakovich continues "Rest assured the QUEL BORDEL that you know and love is still there and coming back with new world punk tunes very soon -- we just wanted to do something totally different for a minute" He snickers and winks with his usual Ukrainian charm. Like many bands during the pandemic, QUEL BORDEL used the time to their advantage. What started as 1-2 songs exploring a new musical style quickly morphed into a full album of instrumental gypsy jazz complete with five covers and five originals. There are covers of Django Reinhardt, Stephane Wrembel, and other gypsy jazz classics. Also, there are original tunes done in the style of jazz manouche. Each of these 10 songs has QB's unique twist and really gives a fresh interpretation of a modern gypsy jazz album done by a bunch of world punkers. AND to make things even better, there's a video component of the band's own dinner party coming out 11/20 for the MVR Holiday Special (streaming free on youtube).
About:
QUEL BORDEL (QB!) was formed in San Diego, CA in 2013 w/ a Ukrainian, two Filipino brothers, a classically trained violinist, and a punk rock drummer. After the better part of a decade, they have had multiple releases and kept up a vigorous touring regiment of over 150+ shows a year. The band has toured the US, Canada, and Europe, and they have made a small dent in the folk-punk music scene: coining their own sub-genre "world punk." After the release of their first full-length CD, Caravan Treasures (nominated for Best World Music Album by the 2015 San Diego Music Awards), QB! reveled in a three-week international festival tour with French folk group BandàpArt (headlining Coin de la Vigne, & FestiBaloche in France), which they repeated again 2016 in the US (headlining Crestfest in Colorado, SD GypsyFest in San Diego, and others) amid several regional tours and resident gigs as well. 2017 saw increased regional touring with a full European Tour (headlining Coin de la Vigne again in France, as well as performances at Festibaloche (Olargues, France), and Highmatland Festival (Leutkirch, Germany) a motif that has continued on as the band currently maintains a vigorous touring schedule and band "bromance" with BandàpArt. In fact the two groups have merged into a side-project super-group known as BandàBordel and released an EP together in 2018. QUEL BORDEL! is noted for their wild performances and danceable beats. QB! has headlined sweaty, high-energy shows at House of Blues (Mainstage), The Holding Company, The Casbah, and has performed at the Get Shamrocked festival 7 years in a row. Likewise, the band has shared the stage with: Flatfoot 56, Metallachi, The Rum Jacks, The Real McKenzies, Diego's Umbrella, Sprung Monkey, Magic Giant, Young Dubliners, Dublin City Ramblers, Bridge City Sinners, Daze 'N Daze, Dirty Kid Discount, and many others. QB also boasts several television slots (including a feature on TLC's Breaking Amish), as well as new music in the pipeline (three EP's released in under a year and two more on the way).
---