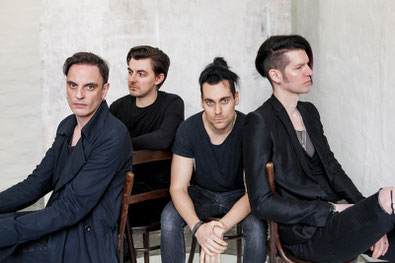 The band is thrilled to announce that finally, two years after its cd release by SPV/Oblivian, the critically acclaimed debut album "A Chasm Here and Now" by Berlin based post-punk quartet Wires & Lights will be available on vinyl format on Dec 1st 2021.
The release is packaged as a limited edition gatefold double LP containing 4 additional exclusive bonus tracks: the previously unreleased track "Mayday" and 3 remixes of album tracks by Ash Code, The Foreign Resort and TRAITRS.
When you find yourself struggling to find suitable references and apt descriptions to somehow classify the sudden enthusiasm about a new record, it can quickly lead to despair. Even when you're searching within roughly the right category (post-punk: you know – melody, substance, rock line-up and so on), and still fail hopelessly, then one thing is clear: No matter what you do, hold on to that record firmly and don't let it go!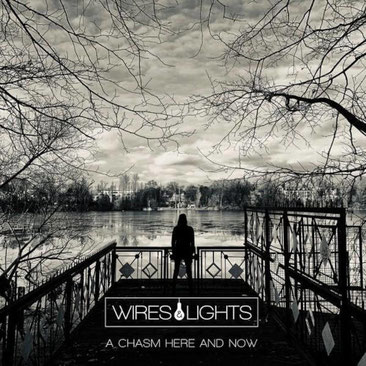 "A Chasm Here And Now" is the long awaited debut album of Justin Stephens' (ex-Passion Play) current band WIRES & LIGHTS, with which the Berlin quartet redeems everything they announced at live shows and on the Pagan Love Songs Vol. 3 compilation in 2014 with an early demo version of "Swimming". Having spent three weeks at #1 in the German Alternative Charts (DAC) on its CD and digital release (by Oblivion/SPV during fall 2019), the album will now be released for the first time on vinyl by Wave Tension Records in a limited edition (300 copies) gatefold double LP, complete with four bonus tracks.
Right from the off, the brilliant opener "Drive" leaves nothing to be desired in terms of thrilling, hymnic danceability: "Turn up your drive / 'til you're racing ahead of the noise of life" is just epic! A grandiosely updated "Swimming" sustains the urgent sense of drive unconventionally, before "Anyone", one of the most gripping and sweeping mid-tempo ballads of recent years, changes down a gear. And that was just the beginning. Every time you think you've grasped the band musically, they immediately prove you wrong with the next track. Beyond predictability and within a broad, but nonetheless navigable aesthetic corridor, Justin Stephens and his comrades-in-arms – Ralf Hünefeld on guitar and keyboards, Gabriel Brero on bass and Sebastian Hilgetag on drums – display with "A Chasm Here And Now" one thing above all: Songs of this caliber cannot possibly be created by beginners. What is so rich in content, so versatile but never arbitrary, and yet seems to flow so naturally, can only be the result of rich experience and many years of dedication. The high-quality production in Berlins Trixx Studios is the technical equivalent of the artistic premiere league in which "A Chasm Here
And Now" plays. In addition to pure listening pleasure, Justin's incomparable lyrics offer unpretentious depth in a manner that is rarely found. They inspire in their entirety just as they function as one-liner fragmented aphorisms ("reality stayed when your reason abandoned"). Thus WIRES & LIGHTS are the very embodiment of the enlightening message to which they owe their name: It's all there; you just have to help yourself.
And if you're still in any doubt, listen to the conclusion of the album: "Going, Going, Gone" – this masterfully polished gem of a song, with its New Model Army-like bubbling structure, its genetic connection with Passion Play's "Running On Empty" and its epic deliverance will be a classic for all time that everyone always wants to hear.
---