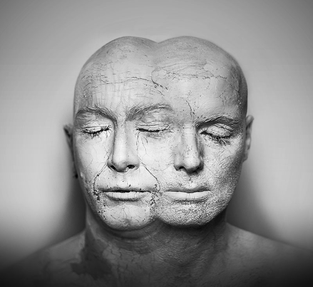 Korsakov is an intense experience, a plunge into personal abyss through emotional and complex black metal.
погружать, the duo's debut album, is a catharsis; the exploration of the depths of one's own fantasized memory and its most complex testimonies. "I" is the first cry: seven minutes roaring fears, fears, feelings and sensations that even words fail to express.
"This single, 'I', is the first track on the album. The latter lays the foundations for Korsakov's sound identity, namely fast rhythm, drones, screaming song. A direct title which, during its 7:45, takes the time to develop its different parts without compromise. " (TO.)

Korsakov takes its name from the syndrome discovered by Sergei Korsakov: a severe neurological disorder causing irreparable loss of memory and a strong tendency to confabulation.
This liberating musical project is intended to be the expression of an intimate experience in the face of these recurrent and insidious amnesias. Beyond an obvious black metal essence, Korsakov's influences can be found as much in other musical currents (from shoegaze to ambient through electronic music) as in more plastic artistic disciplines such as Viennese actionism. or the works of photographer Steve McCurry and sculptor Ron Mueck.
---
The album погружать ("pogruzhat"), whose name could be translated as "to submerge" - "to dive slowly but surely", is a set of complex emotions and difficult to express in simple words. The song of Korsakov, without words, remains in the indisputable to let out its torments, its shackles and its pains.
Preorder: