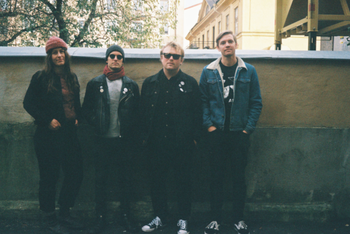 Rotten Mind shares the single "Serpent Eyes" on the 12th of November. The track is the first taste of the band's upcoming fifth album "Unflavored", and the first new music from the band since their 2020 album "Rat City Dog Boy". The Swedish punk rock outfit recently recruited Liz Panella (Earth Girls, Siamese Twins) as their new bass player. Besides the new single and member, Rotten Mind also announces a 14 date European tour, supporting their upcoming album "Unflavored".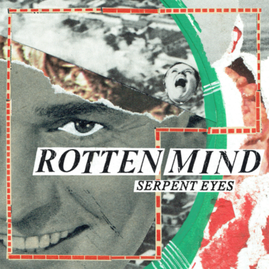 Jakob Arvidsson from the band comments on "Serpent Eyes":
"Serpent Eyes" is about feeling out of step with the world. Feeling like you're an alien everywhere you go, and trying to see society in your own way to get by. It was recorded by Kristofer Jönson (Jeniferever) at studio Turbinen in Uppsala. It's a natural develop-ment of our sound, going for a darker and bigger soundscape as you could already hear a glimps of on previous songs like "Fyrisån" or "Not One of You" from the album "Rat City Dog Boy" from 2020."
"Serpent Eyes" is out now on all streaming platforms via Lövely Records. Rotten Mind's European tour dates can be found below.
---
Biography:
Sweden's Rotten Mind combines elements of 77'punk, post-punk, dark wave, and garage rock into their own brand of melodic and alternative punk. Effortlessly mov-ing between gloomy, epic, bittersweet, punchy, and energetic soundscapes, the band brings vintage-sounding punk to the modern age with a timeless attitude and palpable verve.
Rotten Mind consists of Jakob Arvidsson (guitar/ vocals), Liz Panella (bass), Johan Sverredal (guitar) and Victor Nordin (drums). The band was formed in Uppsala, Sweden in 2015. As one of the four original bands affiliated with Lövely Records, Rotten Mind has released four studio albums; "I'm Alone Even With You" (2015), "Rotten Mind" (2017), "Fading into Oblivion" (2018), and "Rat City Dog Boy" (2020). In 2022, the band launches their fifth studio full-length; "Unflavored".
Since the release of their critically acclaimed debut, Rotten Mind has toured frequently, playing shows in Australia, Germany, France, Sweden, Austria, Belgium, Denmark, UK, USA, Spain and the Czech Republic. The band has shared stages with Hurula, Asta Kask, and The Sounds, and has been recognized in music magazines such as NME, Vice, Vive Le Rock, and Swedish Gaffa.
Existing somewhere in the dark wastelands where 80's UK acts like The Vibrators meets US bands such as Christian Death and T.S.O.L. Their fresh and modern contribution to the genre makes Rotten Mind comparable with contemporary acts such as Crusades, Iceage, Radioactivity, Metz and High Tension Wires.
Live on stage:
25.03.2022 - DE - Kiel
26.03.2022 - DE - Hamburg
27.03.2022 - NL - Amsterdam
28.03.2022 - DE - Münster
29.03.2022 - FR - TBA
30.04.2022 - FR - TBA
31.04.2022 - FR - TBA
01.04.2022 - FR - Lyon
02.04.2022 - IT - Parma
05.04.2022 - DE - Regensburg
06.04.2022 - DE - Dresden
07.04.2022 - CZ - Prague
08.04.2022 - DE - Leipzig
09.04.2022 - DE - Berlin