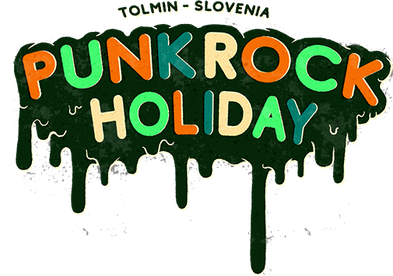 Punk Rock Holiday documentary, 'The Beast From Soča River', gives an exclusive insight into the festival's first decade. All its ups and downs and everything in between, that made Punk Rock Holiday into what it is today - one of the wildest & most unique festivals in Europe.
The documentary takes you on a journey of Punk Rock music, stage dives, skateboarding and endless adventures on the Soča River. Fletcher from Pennywise simply called it "The best festival in the world," so who are we to disagree?
Get your Melonball and popcorn ready and just enjoy the ride!
Punk Rock Holiday History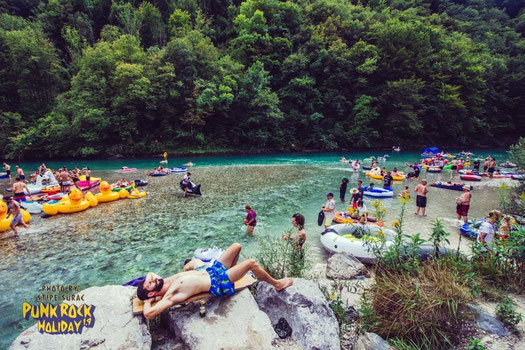 Punk Rock Holiday has been held since 2011 at the festival owned campsite along the shores of the River Soca. Previously, two very similar festivals had been running every year in Slovenia called Šklab Fest and Njoki Summer Festival. Organizers decided that these two events were too similar to each other for the small country of Slovenia to host and looked at merging them into one huge event. Punk Rock Holiday was born.
It was originally called Sklabfest and held initially at another site in Slovenia in 2009. When the location became unsuitable in 2010, it was moved to the new location for 2011.
The festival is insistent on no barriers to the stage so dedicated punk rockers are at one with the performance and can immerse themselves into it. The location of the festival was chosen since there were already two festivals, Metalcamp and Sajeta Creative Camp, that had been held there with great success. This way the festival can stay small at a 5000 people capacity.
Attracting the best punk rock performers and festival-goers it's no surprise that the event is gaining in popularity very quickly. In 2019 the tickets sold out in just 10 hours.

In 2019 around 35% of the audience came from Germany, 15% from Austria, 14% from Slovenia, 8% from Belgium and the UK, with another 5% attending from Italy, Punk Rock Holiday also attracts people from more than 40 countries such as Canada, USA, Australia, Singapore, Argentina, Brazil, Russia, Israel, Afghanistan and the United Arab Emirates.
Punk Rock Holiday Impressionen
Location