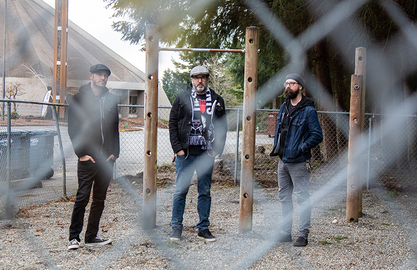 Let Me Downs are a 3 piece punk rock band formed out of the ashes of broken hearts and empty glasses.
The Let Me Downs are a three piece punk rock band that was formed out of the ashes of broken hearts and empty glasses in grey winter skies of Tacoma, WA in 2019. The band began when Paul Levesque (bass,vocals) relocated from Phoenix, AZ to Tacoma, WA. Paul recruited Garrett "Stump" Guadiana (drums) and Pat Hall (guitar, vocals). After just one rehearsal, the trio knew they were onto something good. After just a few more rehearsals they had written what is now their debut record titled "Tacoma Is For Lovers".

Soon after the band formed Paul had to unexpectedly move back to Phoenix. But, the band did not want to throw in the towel just yet. With traveling out of the question during the pandemic, Paul recorded his bass and vocals in Arizona while Pat and Garrett recorded their parts in Washington. The outcome was 11 emotionally driven and punk rock energized songs. Their debut record is out now.

"This record definitely means a lot to me. I wrote most of these songs when I was going through a real tough time in my life. A lot of life changes happening. Still pulls on the heart strings a little bit when ever I play or hear the songs. My mind is still blown how we pulled this off. Recording in two different states is something I have never done. It was a challenge for sure. But, I couldn't be more stoked on how everything came together. I'm super proud of what Garrett, Pat and myself were able to accomplish." - Paul Levesque (bass, vocals)

"I am really proud of what we were able to create. In the midst of a pandemic and in different states, we were able to collaborate and write an honest album I am truly proud of. Can't wait to see what we can do when not locked down." Pat Hall (Guitar, Vocals)

"The three of us put together, our blood sweat and emotions into this album and are proud of how it turned out and can't wait to show it off."- Garrett STUMP Guadiana (Drums)
---
Stream the new video "Jameson On Ice"