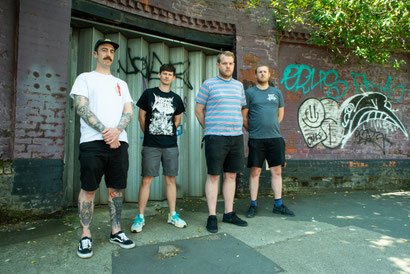 Fair Do's are a powerhouse of technical melodic hardcore, who combine hardcore punk and metal in a way that few other bands dare. Fair Do's spent their formative years hammering their distinctive fast-punk style home, however, they've also invested considerable time honing their metal chops, evident in their heavier rhythms, riffs and plentiful beat-downs.
Formed in 2008, Fair Do's have established a following of dedicated fans around Europe, playing with legends like Lagwagon, A Wilhelm Scream, Frenzal Rhomb and H20. Having grown up in small working-class towns around Manchester, they have an underdog mentality that resonates in their lyrics, which are both politically focussed and firmly tongue-in-cheek.
Although they are driven by a strong DIY punk ethos, Fair Do's are best known for their technical talent. Every song is heart-racingly uptempo and overlaid with jaw-droppingly intricate guitars.
They released their debut album Leopards on Lockjaw Records in 2018 - an adrenaline-soaked collision of hardcore punk and metal, that captures the energy and technical prowess of their explosive live show. Their earliest release Trying Times was released on Pumpkin Records in 2014 and remains a firm favourite of skate-punk fans.
Fair Do's latest output demonstrates the development of their sound into a heavier, richer mix. These tracks are the introduction to a more mature Fair Do's sound, but they are every bit as technical as their fans would expect.
---