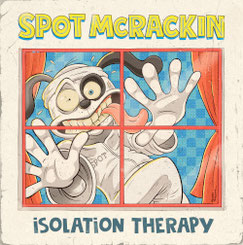 Im Frühjahr erscheint bei LAST EXIT MUSIC das erste Solo-Album von Spot Mcrackin aus Kanada!
 
Spot Mcrackin is set to release his first single "Isolation Therapy" on Feb 11th, 2022 across all digital streaming platforms. This single is from the upcoming solo album "New Tricks" due out in the spring of 2022 on Last Exit Music (Germany)!
Spot gathered a bunch of his friends to play on the record, including all members of the Mcrackins, Jay Prozac "Prozacs", Chris Damien Doll Trashcan Darlings/Suicide Bombers, and Mick Wood/Mike Federici from Dirtbag Republic. The new album was mixed by Norwegian engineer Maria Maxwell and mastered by Justin Perkins (Screeching Weasel/Replacements) and produced by Spot and Maxwell.
---