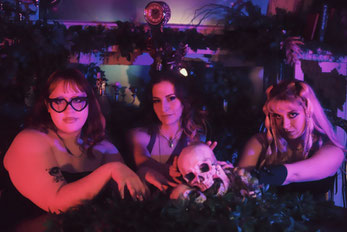 So Cal trio The Aquadolls are back with a new single titled "Help (I'm Falling 4U and I Can't Get Up)."
Melissa Brooks says, "This song tells the story of falling for someone and starting to obsess over them. It's about imagining all of the things we could do together, both romantic and twisted, showing the darker sides of having a crush and longing for more to come from it.
Produced by Fat Mike of NOFX and Jon Graber, this song is a sultry slow jam compiled of surfy guitar with a heavy kick drum, hitting our heart strings with every chord."
"Help (I'm Falling 4U and I Can't Get Up)" follows on the heels of the trio's recently wrapped national co-headline tour with Republic Records' Sitting On Stacy, which they concluded last month with a weekend of SOLD-OUT shows at LA's The Roxy and San Diego's SOMA.
---
About:
The Aquadolls was formed in La Mirada, CA in January 2012 by lead singer and songwriter Melissa Brooks, who began recording bedroom demos of her songs. She eventually released the album 'We Are Free' in early 2013, followed by the LP 'Stoked on You' in December 2014. After a brief break from releases, the stars aligned in July 2018, and the new era of The Aquadolls commenced with Jacqueline Proctor on drums and Keilah Nina on bass. The band grew as a powerful threesome leading up to the release of The Aquadolls' highly anticipated second album, 'The Dream and the Deception,' recorded and self-produced by Brooks and self-released October 28, 2018, on Aqua Babe Records.

Following their sophomore album, the trio self-released the single "Suck on This" in summer 2019, followed by their 2020 viral cover of Lash's "Take Me Away" (a track made famous via its inclusion in the 2003 Lindsay Lohan-starring Disney film 'Freaky Friday').

After signing with Enci Records and releasing a trio of singles (including the track "Cry Baby" which hit the top 10 Alternative Specialty Charts), The Aquadolls, whose sound mixes indie, punk, surf rock, and vintage bubblegum girl-group swagger.