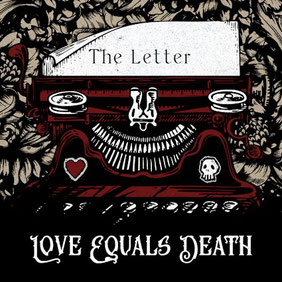 Love Equals Death was founded in the depths of California, fittingly on Halloween to create a band that mixes Horror Punk with Skate Punk. The first Love Equals Death album Nighmerica was release by Fat Wreck chords and had the trio around Chon Travis tour with bands like AFI and Tiger Army all around the globe.
After releasing a split record with their buddies The Static Age and a B-sides compilation - both on SBÄM records - they are now ready to unleash their brand new album "Gravity and Grace" on July 17.
 
 The first single "The Letter" is out on May 18 as well as the cool lyrics video created by Dominik Geiger.
 "The Letter is about broken trust. When you go all in for someone and realize that it's not reciprocated. Not only that, they didn't respect you enough to tell you to your face, but instead, left it all in a letter. 3420 came together in the studio. We needed another song, but didn't have lyrics. We were trying to come up with ideas, so I started to think about people that I know or have met in my life that stood out to me, and my friend Shelby came to mind. The rest is history. Gravity and Grace is a lifetime away from Nightmerica. There have been so many obstacles since then just to get to this point in releasing a new album. The gratitude that I hold for aIl those involved is overwhelming. I can't think of a better time than now for this musical and life expression" says singer and guitarist Chon Travis. The Letter can roughly be described as Bauhaus meets The Clash!
---