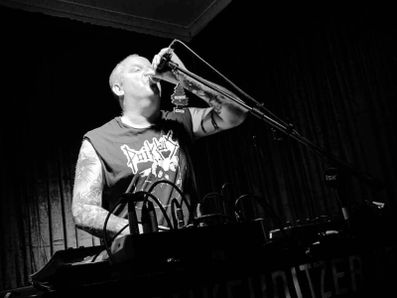 Kieren is a veteran of the New Zealand anarcho/political punk scene during the late '80s and early '90s with bands like S.M.U.T. and Septic Noise Grinder, and who these days is based in New South Wales, Australia. Although he's best known for playing punk, grind, hardcore (etc) with many bands while living around NZ, Australia, and Germany over the years, most notably Sydney hardcore band Dark Horse for the past decade, he's also a member of occasional deathrock/goth punk band Death Church, whereas Schkeuditzer Kreuz is a much more industrial influenced project: dark, harsh, abrasive, and apocalyptic, addressing issues around mental ill-health, isolation and alienation, and Kieren's general sense of despair at the current state of the world.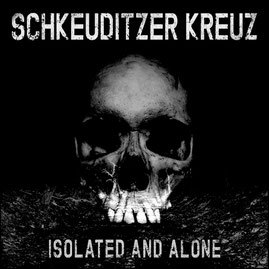 His latest album 'Isolated And Alone' was released on vinyl late last year through Australia's Bad Habit Records and Already Broken Records (and banned in China in the process for "subversive content"), and was more recently released in Europe and the UK through Pyrrhic Defeat Records. Proceeds from digital Bandcamp downloads are donated to Transcend Australia, to help support trans / non-binary / gender diverse kids.
---
His latest Schkeuditzer Kreuz single and video from the album is a cover version of 'State Violence State Control' by Discharge. Kieren has just finished touring Australia to promote the album, and is now working on new material, along with planning tourdates in Europe for either late 2022 or early next year.
About: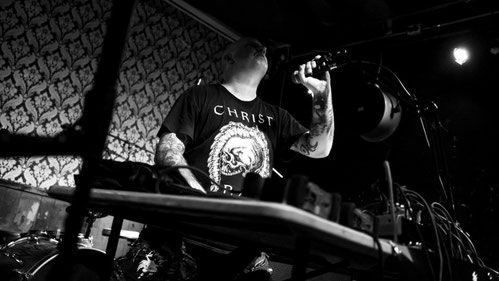 Schkeuditzer Kreuz is one human and some machines, making noise, in the face of it all. Live electro industrial punk created out of the wreck of the plague year twenty-twenty. The human element of SK has been playing stringed instruments in punk bands since the days when the world had happiness and hope. Since the decline, there has been a building of greater affinity with machines making the creation of SK inevitable. The name Schkeuditzer Kreuz comes from a motorway intersection between the A9 and the A14 in Sachsen, the sign for which was glimpsed out the back of a moving vehicle while escaping Leipzig many years ago. Schkeuditzer Kreuz hasn't been around long but has released four records. The first was a five-song 12" EP called Give Me Nothing, launched with a 15-date tour through Eastern Australia in March 2021. The record sold out on the tour, which led to the second record – a 7" released on the Inner City Uprising label. This record is an electro-industrial tribute to the noisier end of punk rock called D-Beat Raw Synth Punk, and has two songs – one original, and a cover of Australian punk band Pisschrist. The third is a split EP with Sydney legends Low Life – both covering Discharge – State Violence State Control. This was released by Wintergarden Records to coincide with an art exhibition with the same theme.
The fourth is the debut full length LP – Isolated and Alone – released on 14th December in Australia, and just released in the UK and Europe in February through Pyrrhic Defeat Records. It was supposed to be released in October and was pressed once already at a plant in China, however the authorities there decided that it was not fit for export due to "subversive content" and they destroyed all copies including the stamper plates and artwork. It has now been pressed again locally. The album has been released in Australia on Bad Habit Records and Already Broken Records and in Europe on Pyrrhic Defeat Records. To celebrate this, SK is touring through Australia from December 2021 - April 2022, with more dates being added all the time.