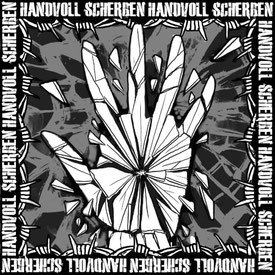 Handvoll Scherben present their debut, which was digital released in early 2022.
"New Blood, Old Veins" is the motto, since the people from Aachen were already active in various punk and hardcore bands (Urban Rejects, Born from Pain, Mexican Wolfboys, to name just three) with their self-proclaimed reality punk, a combination of brutal 80s US Hardcore and Oi!/UK Streetpunk results in a solid list of ingredients.
Perhaps due to the fact that the guys come from very different backgrounds, Handvoll Scherben also sound less cliche than your average streetpunk band. Instead of working-class swagger, there's a lot of darkness in the sound and lyrics of Handvoll Scherben. The plaintive vocals create a somber, gray world of modern existence, while the guitars cut razor sharp and the drums drive uncompromisingly forward.

Release-Date will be announced soon. Due to the current "Vinyl-Desasters" it seems end of 2022 / beginning of 2023.
In the meantime: Listen to them on Spotify
---