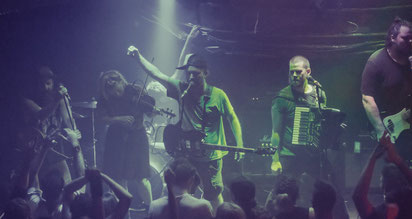 The Dreadnoughts have just announced the release of their latest full length album on Stomp Records. The new album "Roll & Go" was written primarily by singer/guitarist Nicholas Smyth in his one bedroom apartment in New York City at the peak of the first wave of the pandemic, with a newborn infant, during lockdown. With band members based in New York, Vancouver, London, and Edmonton, the band decided to record in the unlikely location of Norwalk, Connecticut at the Factory Underground Studios.
After ducking and weaving through countless travel restrictions, the Dreadnoughts managed to learn, record and mix an entire album in nine days. It was a harrowing, intense experience, one made even more intense by the fact that six guest musicians were recording their own parts in six different cities around the world, and that all of this had to be coordinated with virtually no time.  But they got it done! The result is Roll & Go: the Dreadnoughts fifth, and possibly finest, studio album.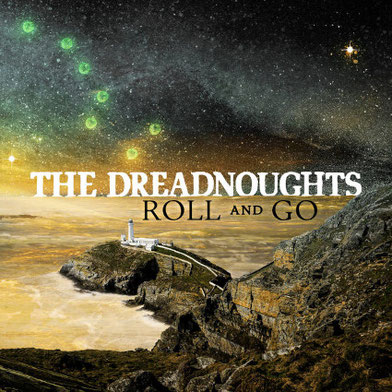 Roll and Go, the focus track of the album, is a nautical tale of adventure and danger, a tip of the hat to comrades who have stuck with the band through thick and thin. Smyth explains, "The song is named after a common refrain in sea shanties; to "Roll and Go" is to get the sails out and acquire serious speed on the open ocean. The song is about brotherhood; and it's kind of a veiled reference to our early days of touring. It recalls that feeling of setting out on a very long trip, of being unable to sleep due to being nervous and excited, and of sitting and drinking together to gather your strength. This feeling is impossible to describe, it's a mixture of fear, excitement and pure adrenaline.  Musicians get tired of touring and cynical about the whole process, but those first trips are really quite adventurous and magical, and I was trying to recapture what that felt like. Musically, the song is something I've always wanted to do, that is, a Hans Zimmer-style movie soundtrack orchestral thing.  We had huge drums out in the studio, lots of shouting and hollering, and there's even an old 70s synth layered into the sound to give it that extra boost. It's about 75% as good as it could have been, but we're happy with it!"

Cider Holiday, the first single of the album, hearkens back to Flogging Molly's finest material. It's a Celtic-punk's tribute to the finest real farmhouse cider in the world, an extended meditation on the joys of exploration and booze. Vicki's Polka is a whirling, madcap polka masterpiece that transports the listener back in time to the community polka dances our grandparents attended. Battleford 1885 is a tribute to murdered Cree Warriors who lost their lives in Canada's Northwest Rebellion of 1885 while The Rodney Rocket is a pays homage to the drunks of rural Ontario, Canada.
---