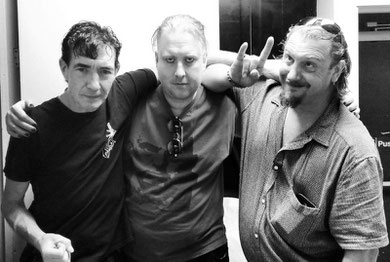 From the forthcoming album, Forever Dying in Your Eyes, 'Running In Circles' is the latest single and video from UK industrial post-punk outfit History of Guns, following on from previous single 'You Wanted to Live'. Formed in Hertfordshire, England, 1996, History of Guns were frontrunners in the UK FuturePunk scene during the early 2000s, and meanwhile championed by Mick Mercer as having created one of the best goth rock albums of all time (Your Obedient Servant, 2004).
They are now releasing new music for the first time in over a decade, with Forever Dying in Your Eyes scheduled for 1 August 2022.
Of the new single, keyboardist and co-founder Max Rael says: "The story of our lives never goes in a straight line from birth to death. Sometimes we get stuck, and it feels like we're not moving at all; or worse, just endlessly running in circles, like dogs chasing their tails, and you feel like you'd do almost anything to break out of it."
History Of Guns formed in Hertfordshire, England, 1996, becoming known as one of the bands of the UK Wasp Factory / FuturePunk scene of the 2000s. Sometimes completely electronic, sometimes a full 5-piece rock band – and much more in between and beyond – they have explored many genres in their collected output over the years, while somehow always managing to sound uniquely like History Of Guns.