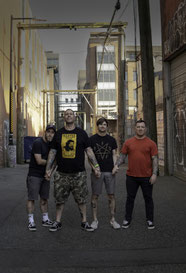 Vancouver punk rock 4-piece Rest Easy (consisting of members of Daggermouth and Shook Ones) have announced a new album titled 'Hope You're Okay,' set for release on October 28 on Mutant League Records.
The band has unveiled the first single "The Hill" along with a music video. Check them out below.
---
Of the track, vocalist Dylan Hossack explains, "I feel like everyone over the last few years has lost touch with a friend or family member because of different views or beliefs, whatever they may be. I wrote this song about how, even when we think we are so in the right- we are all a product of our own echo chambers."