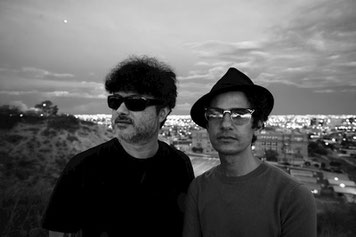 21 years after The Mars Volta first rose from the ashes of El Paso, Texas punk-rock firebrands At The Drive-In, the group return, with a seventh al- bum – their first in a decade – that bravely challenges everything you thought you knew about them, delivering their most exciting, most acces- sible, most sophisticated music yet.
The Mars Volta formed in the white heat of artistic revolution. At The Drive-In had been torn apart by internal friction, external pressure and – most profound of all – creative frustration. Chafing at the constrictions of that group's punk-centred paradigm, guitarist Omar Rodríguez-López hungered for a new vehicle via which he could explore fresh concepts, ideas and sounds. And after At The Drive-In folded early in 2001, Rodríguez-López invited singer and best friend Cedric Bixler-Zavala to join him in a new group, one that wouldn't be bound by the old orthodox- ies that had suffocated their previous band. This new project would be guided by a simple principle: to honour their roots and honour their dead. Everything else was up to the stars.
21 years on, history repeats itself, with Rodríguez-López and Bixler-Zavala reunited as The Mars Volta. Once again, we're witness to an artistic revolution, the group not so much reunited as reborn.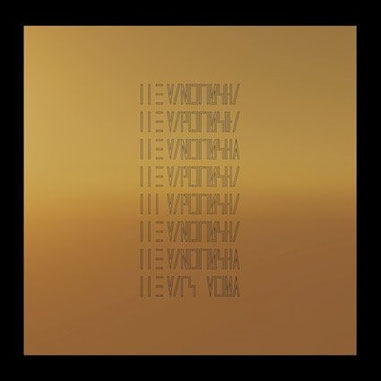 During the decade or so they were originally active, The Mars Volta com- posed, recorded and released six sublime studio albums, conceptual works that radically redrew every rule they rolled up against. There was nothing stagnant about this group. Their debut album, 2003's Deloused In The Comatorium, made good on their initial commitments, reimaging the remarkable life of their late friend, the artist Julio Venegas, through music that strayed from their previous band's post-hardcore blueprint, drawing brilliant inspiration from the Latin music Rodríguez-López had been raised on, from the experimental and psychedelic music that he and Bixler-Zavala were steeped in, from the ambient and drum'n'bass music they'd latterly been seduced by.
This radical, complex, courageous album shook loose some of At The Drive-In's more conservative followers, but quickly won them a new legion of fans whose appetites and attention spans were attuned to The Mars Volta's bold visions. The group reshaped their own paradigm again with the epic sounds of their second conceptual work, 2005's Frances The Mute – the album where Rodríguez-López got to collaborate with his hero, salsa legend Larry Harlow – and still those fans held on tight, enter- ing into an unspoken agreement with the group: that their music would al- ways be evolving, that their ambitions would always be grand, that the re- sults would always be worth whatever creative risks they took.
The Mars Volta shifted shape on each of the records that followed, from the insurgent tribal prog of Amputechture, to the voodoo jazz-metal hauntology of the Grammy-winning The Bedlam In Goliath, to the swoon- ing melancholia of Octahedron, to the dark, unpredictable moves of Noc- tourniquet. And they would have kept on evolving had Rodríguez-López and Bixler-Zavala not hit a speed bump in their friendship following Noc- tourniquet's 2012 release.
---
As a consequence, The Mars Volta split up later that year. And though Rodríguez-López and Bixler-Zavala reaffirmed their friendship following the birth of Bixler-Zavala's sons, The Mars Volta remained split up, even as their disenfranchised fans struck up a drumbeat for their reun- ion, a drumbeat that's grown louder with every passing year.
Instead, Rodríguez-López and Bixler-Zavala formed a new group, Antemasque, recording a self-titled album of vigorous, impassioned, heartfelt pop-punk, the lyrics of which often seemed to shine oblique light upon the duo's healing friendship. Next, Rodríguez-López and Bixler- Zavala reunited with their erstwhile bandmates in At The Drive-In to rec- ord in*ter a*li*a, the long-delayed follow-up to their breakthrough Rela- tionship Of Command, and undertake a successful world tour.
At the end of 2018, At The Drive-In followed up a jaunt across South America with an announcement that the band were once again go- ing on indefinite hiatus – on good terms this time. But this wasn't so much an ending as another beginning, and while Rodríguez-López and Bixler- Zavala didn't yet openly acknowledge it, the time had finally arrived for The Mars Volta's long-awaited return.
As early as the song-writing sessions for in*ter a*li*a, Rodríguez-López was composing fragments of songs that he knew belonged on what would become The Mars Volta. But the roots of the group's stunning new album stretch back even further: to 2008, when Rodríguez-López and Bixler-Zavala were recording Cryptomnesia, their collaboration with drummer Zach Hill as El Grupo Nuevo De Omar Rodriguez Lopez. It was here that Rodríguez-López first approached his paisan with a startling concept for the next The Mars Volta album: a pop record.
This was radical thinking for a group who traded in epic tracks that rarely conformed to the three-minute limit, whose wild visions tore up the rulebook, and challenged all within earshot. Certainly, the idea of making a pop album startled Bixler-Zavala, who admits that back then he thought "pop" synonymous with "bad", and could not conceive of how to crowbar The Mars Volta's ever-blossoming sounds within such strictures. Today, Bixler-Zavala laughs ruefully, noting that many of the group's key influ- ences – like David Bowie, for example – had mastered both challenging, experimental music and the pop format, often on the same song. But in 2008 he wasn't ready to embrace such a thorough departure from the path The Mars Volta were then pursuing.

But Rodríguez-López had sowed the seed; in the years that passed, it grew and grew. A decade later, as work began on the next evo- lution of The Mars Volta, he returned to this pop concept, translating the riotous cacophony of their earlier work – the avant garde, experimental ideas, the Caribbean rhythms, the passion, drama and melody of Latin music, the futurist sounds of electronic music – into songs that moved with subtlety, that unsettled with stealth, that possessed a quiet power perhaps greater than the sound and fury that had preceded them. The tunes Rodríguez-López had composed were among his best work yet, their melodies often sad, wise, knowing and insightful.
Rodríguez-López approached Bixler-Zavala with this new music and informed his partner that he wanted to make "a heavy record". Bixler- Zavala chuckles again, and says that if he told anyone else that, "they'd assume we were about to turn into Sunn 0))) or Sleep". But Rodríguez- López and Bixler-Zavala have a bond beyond most, and the singer imme- diately caught the guitarist/composer's inference. Rodríguez-López's timing was perfect. Weathering unthinkable tensions and traumas that had left him intimately conversant with just how dark, twisted and painful life could get, Bixler-Zavala was ready to pen the words and vocal melo- dies to deliver the "heavy record" the guitarist/composer had in mind. "It's therapy," Bixler-Zavala says. "And I'm lucky enough to have someone like Omar in my life, to spearhead that and make it all happen. His patience and tenacity are so key to all this. I'm constantly in awe of how he does shit."

So The Mars Volta is the group's "pop" album – a malleable term, espe- cially in the hands of artistic revolutionaries like Rodríguez-López and Bixler-Zavala. Still, listen close, to the darkly lilting bustle of Backlight Shine, to the needling, paranoid throb of Graveyard Love, the resonant, wracked choruses of Vigil, Cedric's anguished howl of "Leave no man be- hind" on Collapsible Shoulders... Built upon traditional structures, bearing bright hooks, bold choruses, melodies your brain will try to unravel in your sleep, the songs of The Mars Volta are, undeniably, pop songs.
---
Received wisdom has it that such songs should be in opposition to the music The Mars Volta have typically made, but The Mars Volta is a distillation of everything the group have done before, a focusing of inten- tions, a sculpting of expression. A common reference point for Rodríguez-López and Bixler-Zavala is Peter Gabriel's So, the multi-plati- num-selling, Grammy-nominated album that saw one of rock's most ex- perimental, progressive and generally uncooperative voices find a way to deliver his avant garde ideas and powerful subversion in a way that main- stream audiences would be able to decode.
The Mars Volta plays a similar game: it is subtly subversive – end- lessly inventive, but never at the cost of the song. Many of the same val- ues that made The Mars Volta's previous albums so ground-breaking, so acclaimed, are still present here, but they are employed in different, adroit ways. The Caribbean rhythms that powered their blistering earlier records still flourish across The Mars Volta – they aren't the foreground now, but they ripple underneath each of these tracks. Similarly, the big rock moves and proggy complexities of their landmark releases have given way for more sonic subtlety, for immediacy and directness. But while The Mars Volta shies away from Grand Guignol flourishes, it remains a dark, power- ful and affecting listen, mature and deeply satisfying in its restraint.
Make no mistake, the music of The Mars Volta is remarkable, a vi- sionary left-turn on the part of the endlessly inventive Rodríguez-López. And even though its understated production invites the listener to hear the big picture and not his painstaking detailing, the album contains bre- ath-taking flourishes around every corner: the swarming synths that envelop Graveyard Love like vines, or the salsa piano and heavy, heavy percussion that lend Que Dios Te Maldiga Mi Corazon its irresistible bustle. And don't underestimate the skill required to deliver such acces- sible, lucid music without suffocating the potent turbulence coursing be- neath.
Early on in the project, Rodríguez-López cut basic demo versions of the songs at home, for Bixler-Zavala to compose lyrics and vocal melo- dies to. He later flew out to California to record Bixler-Zavala's vocals, u- sing a portable studio where the singer's head was zipped inside a box while he recorded, to ensure the intimate performances that make The Mars Volta such a riveting, emotional journey (as is often the case with The Mars Volta's work, the album sees Bixler-Zavala sing rather than scream, and in Spanish as the songs demand). Once the vocal takes were in the can, Rodríguez-López relocated to New York, where he recorded the final versions of the music that composes The Mars Volta, joined by his hand-picked foils: keyboard-player Marcel Rodríguez-López, bassist Eva Gardner and drummer Willy Rodriguez Quiñones.
The end result is an astonishing, mature album, one that will startle long-time fans of the group, and win them new ears along the way.

The text of The Mars Volta, and the tender, vulnerable way Cedric Bixler-Zavala delivers his lyrics, is a key source of the album's considerable power. "The most revolutionary thing for us to do was just be very simple and straightforward," he says, and while this ethos extends to the group's new music, it also speaks to the words Bixler-Zavala sings. These are songs haunted by absent friends – including the group's belo- ved compadre and sound-manipulator Jeremy Michael Ward, a founder member who passed away shortly after the recording of DeLoused In The Comatorium, and whose loss inspires the stunning Palm Full Of Cruxes, which Bixler-Zavala says he penned "as a lighthouse to him, wherever he is". These are also songs marked by the trauma Bixler-Zavala and his fa- mily have experienced in recent years – songs of justified paranoia, of love surmounting unthinkable challenges, of betrayal and noir-ish subterfuge.
The lyrics are considerably easier to decipher than earlier Mars Volta screeds, the group's signature lexicon of invented words (many the work of the late Ward) abandoned now in favour of poetic, plain-speaking story-telling. Bickler-Zavala used to love littering his songs with riddles that he knew wouldn't be decoded until decades after his death. But on The Mars Volta he writes clearly and concisely, his words cutting deeply, his metaphors heavy with portent. On Vigil, perhaps the album's most un- forgettable track, he sings of lives torn apart by centrifugal forces, a recurring theme throughout. He was thinking specifically of a fairground ride at Western Playland in El Paso, where its spinning movement pins ri- ders to the wall as it gather pace, whether they want it to or not. "I wanted to convey that you might think you have control over your life, but centri- fugally speaking, you get what you get when life starts spinning around," Bixler-Zavala says.
The recent chaos and pain of his life inspired many of these songs, but key among all of them is the connection between Bixler-Zavala and his bandmate, and the inspiration the singer draws from Rodríguez-López music. "Everything I gravitated to that Omar gave me had this 'end-of- the-movie, credits-are-rolling' melancholy to it," he explains. "I was mo- ved to tears by much of it, because it mirrored, sonically and through chord-changes, what I was feeling."

The Mars Volta marks a profound shift in the group's sound, a tectonic transference that might unsettle some. Bixler-Zavala, however, is unaf- raid of the fans' potential reaction, perhaps trusting in their faith in The Mars Volta's core duo, and in the power of these new visions. It's like when Paul Weller split The Jam for The Style Council, he suggests – some fans were thrown initially, but soon recognised the discrete beauty of the new group. More to the point, it's like when The Mars Volta formed 21 years earlier, their radical divergence from At The Drive-In's convulsive, propulsive punk initially too much for their more conservative fans to swallow. But The Mars Volta proved a quantum leap ahead from that ear- lier band, a grander, greater success than they could ever have imagined. And once you've lived with The Mars Volta a little, you'll know this asto- nishing album will enjoy similar success.

The Mars Volta have changed, which is how it is supposed to be, as The Mars Volta was formed and operates as a musical permanent re- volution. And The Mars Volta might be their finest album yet, a stunning, brave and powerful left-turn that will draw the faithful along with it, and win over a new audience who could scarcely expect its subtle, under- stated but compelling charms. Embrace it now, or embrace it later – just know that its sophisticated charms are impossible to resist.
---