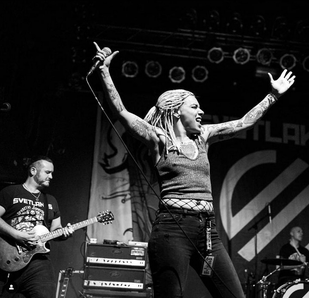 SVETLANAS has earned and maintained the respect of legendary bands such as The Adolescents, D.O.A., The Dwarves, M.D.C, Bad Religion, Suicidal Tendencies, Sick Of It All, Phil Anselmo, Eyehategod, Jello Biafra and many more, giving life to international tours and record productions. The band also received a big and unexpected shout-out from Gene Simmons of the legendary rock band KISS who said "Their music will be listened to by 40 million Americans!".
Nick Oliveri (Kyuss, Queens Of The Stone Age, Mondo Generator, The Dwarves) officially joined the lineup in 2016 recording along with the band "This is Moscow Not LA" LP at the official QOTSA's headquarters, Josh Homme's Pink Duck Studios, and performing a full month residency at the legendary Whisky a Go Go as a member of SVETLANAS. From that moment Nick will be part of every record release of the band, including "Disco Sucks" (2020) and the upcoming release of "The Alien's Blues" (2022)

SVETLANAS returned right now from their appearance at the DRAGON FIRE Tour as support of the undisputed NYHC Kings - SICK OF IT ALL!
In order to support the new Album also called THE ALIEN´s BLUES, DRA and SVETLANAS managed to release a very special recordpackage only available at the SVETLANAS Merch - a liquid record, a handcrafted Beer incl. a Download Code of THE ALIEN´s BLUES". Expect the Vinylrelease in Spring 2023!
---