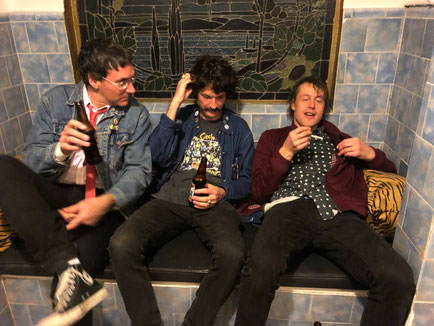 Autogramm, the synth-driven, power-pop trio from Chicago and Vancouver have released a new video for their latest single. Too Loud is the seventh official Autogramm music video and the fourth from their sophomore album No Rules. More of a short film than music video, Too Loud was shot, acted, edited, composited, and scored by the band themselves. The song is a tribute to the late-great Chilliwack / Headpins guitarist Brian "Too Loud" McLeod.
The video is a loving homage to SCTV, Michael Mcdonald, Lance Mountain (Powell Peralta scene here) and of course Yacht Rock. In the video Sir Richard Branson gives Autogramm one last chance: record a hit single, or get dropped! Branson insists the band be at the studio to record by high-noon. Band member The Silo, on a bender and living on his boat, almost doesn't make it. CC Voltage and Jiffy Marx, who have their shit together, simply enjoy a summer ride to the studio. Clocking in at eight minutes and fifteen seconds, singer Jiffy Marx says "It's basically Autogramm's 'Thriller' video."
---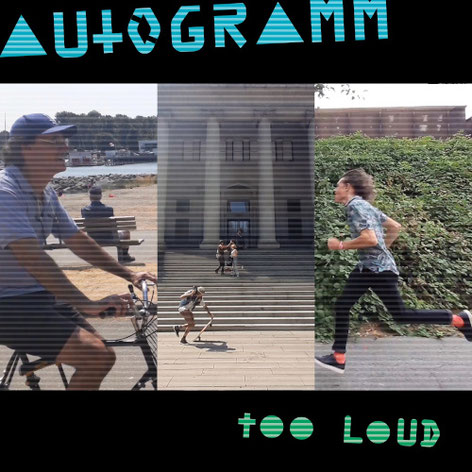 The video was inspired by an SCTV clip where Michael McDonald (Steely Dan, Doobie Brothers) races through the city to get to a Christopher Cross recording session (see SCTV clip here). Regarding the message behind the lyrics, bassist CC Voltage explains "We had been talking about Canadian classic rock at rehearsal, and the band Chilliwack in particular. I had mentioned the story of their late guitar player Brian McLeod and his boat, The Grand Marnier. We did a little research and realized it had a full recording studio on board and he had an awesome 'first mate', a dog named Sailor. Sadly he passed away in 1992, but he left a legacy of amazing classic rock music for Canadians and the world." While Too Loud pays tribute to McLeod's harder rock acts, the song itself comes across as more of an ELO style number. With a meandering bass run through the verses and spacious synth and drum parts, Autogramm leaves room for the song to breathe before building to the climax of the song: a vocals-only breakdown with a three part harmony. Autogramm may not receive any cinematic awards for Too Loud, but they certainly deserve an A+ for hilarity and effort.