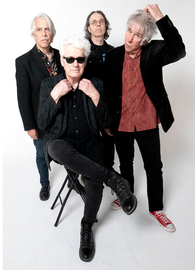 Pioneering Boston rockers Nervous Eaters-- contemporaries of bands like the Ramones, The Police, Iggy Pop, and The Pretenders-- have released their critically-lauded 2022 return full-length, 'Monsters + Angels,' on vinyl via Stevie Van Zandt's Wicked Cool Records.
The Cars' Ric Ocasek produced the band's original demos, which got the band signed to Elektra Records, and they went on to tour around the world. However, after a series of poor decisions on the part of the label, their major label debut album failed to deliver on the promise of their legendary live shows.

After dissolving the band, Nervous Eaters returned in the mid-80's and has been revived over the years with various lineups.

The current version of the Nervous Eaters formed in 2018 and includes three other Boston rock vets, bassist Brad Hallen (of Ministry, Ric Ocasek and The Joneses), drummer David McLean (of Willie Alexander's Boom Boom Band) and guitarist/vocalist Adam Sherman (of Private Lightning), and between them, they have recorded and/or toured with such artists as Ministry, Iggy Pop, Aimee Mann, Jane Wiedlin, Susan Tedeschi, Jimmie Vaughan, Lenny Kaye and many others.
---