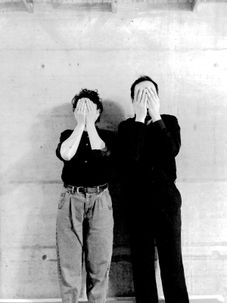 A few weeks after the official release of the album 'MASQUERADE', Swiss alternative-rock/post-punk/industrial duo Grey Lips shared an animated video illustrating the song "Constrained" (from the album) and available right now on YouTube.
For reminder, Grey Lips is a duo composed Perrine Berger (Adieu Gary Cooper, Perrine 3000...) & Matthieu Hardouin (Zatokrev, Impure Wilhelmina, Fallan, Hateful Monday, Orchestre tout puissant Marcel Duchamps...), playing some kind of intense cold-punk-wave.
 
Their debut full-length effort 'MASQUERADE', is still available P & digital through Fer De Lance Records (Future Faces) & Urgence Disks and full-streaming on Bandcamp.
---