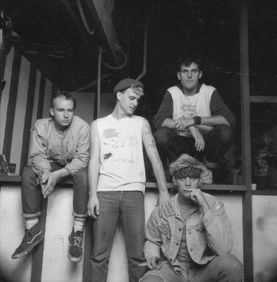 When it comes to the '80s hardcore scene, a handful of releases have legendary status. While Black Flag, Minor Threat, and Bad Brains are the obvious mainstays, 7Seconds were quietly crafting Walk Together, Rock Together, an album that would eventually achieve this vaulted status. The seven-song collection of songs that were as catchy as they were cathartic was produced by Minor Threat frontman Ian MacKaye at D.C.'s legendary Inner Ear Studios. Today, Trust Records is proud to announce they will be releasing its deluxe reissue of the now cult classic, in partnership with BYO Records, who initially released it as an EP back in 1985.
After releasing a deluxe edition of 7Seconds' 1984 full-length The Crew in 2021, Trust has given their same immaculate treatment to the Walk Together, Rock Together LP, which will feature an aforementioned gatefold 20-page full color book continuing the oral history of the band from 1984 – 1986. The book includes commentary from Pushead, Ian MacKaye, Walter Schreifels (Gorilla Biscuits, Quicksand), Norman Brannon (Texas Is The Reason), Milo Aukerman (Descendents), Tony Hawk, Shepard Fairey, Christian Jacobs (Yo Gabba Gabba!), Fletcher Dragge (Pennywise) and more. The Trust edition also includes a fully restored version of its iconic yellow-and-black cover art, as well as 20 brand new original cartoons by Brian Walsby.

Trust Records worked closely with 7Seconds and MacKaye in every detail of this release from the remastering from the original analog tapes by David Gardner at Infrasonic Sound, to the packaging in order to accurately represent these songs' original intention.
"On the '84 tour, we stayed at Dischord House and recorded with Ian and Don [Zientara]," the band's frontman Kevin Seconds explains in the book that accompanies the LP. "We did everything in one little session. Everything was recorded and mixed in two nights and that was when Don's studio, Inner Ear, was at his house. On the recording, you can hear at the beginning of '99 Red Balloons', you can hear this little wind-up toy that belonged to one of his daughters; that was because her toys were all over the studio, spread out all over the place." Bassist Steve Youth adds, "Kev and I were two dirt-poor kids from Reno, Nevada that finally had the opportunity to drive across America and play some shows. We had done some great shows down in L.A. and Phoenix and the Bay Area, but that was nothing compared to driving in a '58 Volkswagen bus across and then finally ending up at the Dischord House. My brother and I were such huge Minor Threat fans and finally being able to record with Don and Ian was a dream for us. I was only 18 at the time. I was just a snotty-nosed kid!"

The feeling was mutual as MacKaye is quoted as saying that "7 Seconds were a band that really spoke to me" as the band helped fill a void in the hardcore scene leading into the Revolution Summer. While the D.C. post-hardcore scene has been well-documented, the history of Walk Together, Rock Together hasn't… until now.