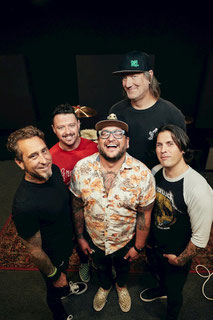 "I can't tell you how much work went into this collection of songs. I'd always been taught that if what you were working on wasn't (what you thought) was your best... start over. Never put anything into the world that you were not absolutely sure of", says singer Donald Ashley Spence.
And that is what happened: "The Bastards Live Forever" is due May 2023 via SBÄM Records and consists of 11 songs crafted to perfection. VTW's unique style of melodic post-punk elevates every member's skill from their other projects including Chris Flippin of Lagwagon. Obviously Versus The World are not all about musical craft but you can hear a passion and an urge to scream out deeply rooted feelings in every syllable throught the record.
Today the first of four singles prior to the album will be released:
"Roadsick/Roadsick" is a bridge between the last record and what we are moving towards as a band. I'm lucky to have shared this moment with Sean, Flip,Tony, & Pat on record. Meeting Cameron Webb, and him signing on as our producer only made things better", says Donald implying that the album was produced by famous producer Cameron Webb (Motorhead, Sum 41, Megadeath and more).

"Roadsick is a band favorite for the record. We wanted a song that felt like it kicked the doordown like the DEA from the get go. A song that after we put it out, we would have to play itlive. Writing it was ablast. Singing it was even more fun and hearing it back still gets mestoked. Enjoy!"–Donald Spence
About Versus The World:
A post-punk unit from Santa Barbara, California featuring members of Lagwagon and Good Riddance,Versus the World issued their eponymous debut album in 2005 on Kung Fu Records.Drawing from theirdense pedigree the band blends elements of pop-punk, melodic post-hardcore and troubadour stylevocals by founding front man Donald Spence.Versus the World has toured extensively world wide onsubsequent releasesDrink.Sing.Live.Love(2012) andHomesick/Roadsick(2015) in support of bands suchas No Use for a Name, The Ataris, Lagwagon and MxPx. In 2021 the band teamed up with producerCameron Webb (Motörhead, Megadeth) to makeThe Bastards Live Foreverwhich is due out in May2023 onSBÄM Records.