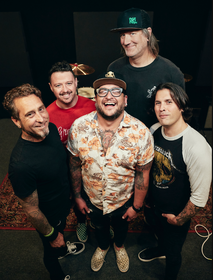 Santa Barbara, CA's Versus The World will release their Cameron Webb-produced album "The Bastards Live Forever" on May 26.
A video for the first single "Roadsick/Roadsick" is out today and streaming here:
"Roadsick is a band favorite for the record. We wanted a song that felt like it kicked the door down like the DEA from the get go. A song that after we put it out, we would have to play it live. Writing it was a blast. Singing it was even more fun and hearing it back still gets me stoked. Enjoy!", says singer Donald Spence.
The band says, "'The Bastards Live Forever' was written during the height of the pandemic in 2020. It's a disparate collection of songs about divorce, shame, love and growth. We can't wait for you to hear it!"
'The Bastards Live Forever' consists of 11 songs crafted to perfection. VTW's unique style of melodic post-punk elevates every member's skill from their other projects including Lagwagon guitarist Chris Flippin and Good Riddance drummer Sean Sellers. Obviously Versus The World are not all about musical craft but you can hear a passion and an urge to scream out deeply rooted feelings in every syllable throughout the record.