Toronto's masters of melodic hardcore, Brutal Youth, have just announced the release  of their anticipated new LP Rebuilding Year (due out April 21st on Stomp Records) with an advance single and video for the song Moonstones. The single calls to mind late 80's and early 90's West Coast punk, with hints of Big Drill Car, ALL and Good Riddance scattered throughout.
 The melodic vocals of Patty O'Lantern paint a poignant picture of broken promises on top of a wall of guitars and a backbeat reminiscent of SNFU's Jon Card and Belke Brothers era. Reminiscing on the meaning behind the lyrics for their first single Moonstones, singer O'Lantern says " I was listening to a lot of Dag Nasty Can I Say at the time. This was inspired by Values Here in a lot of ways. Lyrically it's a personal anthem about when the intimate promises we often make to the ones we love can just fall apart no matter how much you're doing to try to hold them together. Thematically I think that's in line with the entire record." The album was recorded by Steve Rizun at Drive Studios in Toronto. Describing the studio situation, singer O'Lantern laments "his entire rig crashed on the first day we were scheduled to record, he probably spilled a bunch of orange Tang on it or something like that so basically DC, our drummer, drove four hours to eat a grocery store bought salad with a raspberry vinaigrette and some chopped almonds and then go home."
---
---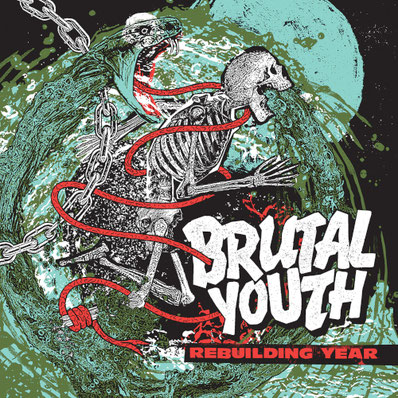 Brutal Youth play manic hardcore punk rock. They started out with three simple rules: play it fast; keep it under 90 seconds and don't be precious about repeating a hook… because when your songs are that short people can always just hit rewind and play 'em again. Over a decade later they've broken every single one of those rules. On Rebuilding Year (their 4th long-player) we find the band once again breaking the rules and rewriting their own playbook. 14 songs that range from mid-tempo melodic sing-alongs, to blistering fast knockout tracks (some that even break the 3 minute mark) on a record all about dealing with personal ruination, redesign, and redemption. Rebuilding Year is the Brutal Youth's most well-constructed and cohesive release to date. Tense and brooding about how life can grind you down into nothing, then melodic and resolute to make those necessary changes for the better because like they say "you get back what you put in."
---
Order New LP on Powder Blue or Translucent Wine Red Vinyl!
---