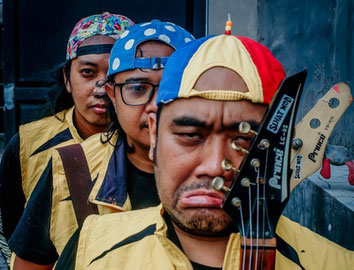 After launching the song "Kredit motor" (motorcycle installment – Eng.) earlier this year, CAKRUX is back with a new single. The band was formed in 2022 in Jogjakarta (Indonesia) and is also active in releasing singles, just like motorcycle loans that must be paid every month when they are due. Not only that, the trio is also active in posting shit posts on their band's social media, just like young people who are literate in technology.
Not wanting to be outdone by Indonesian pop bands who are suddenly religious before the fasting month, CAKRUX released "Marhaban ya Ramadhan" (welcome to the fasting month – Eng.) to welcome Ramadan 2023. This song is about someone who pretends to do fasting because of social constraints.

CAKRUX really adheres to songs with themes around household life, family, taking care of children, community life in the village, work and economic ties including pretending to fast. "In the morning, we eat sahur (pre-dawn meal – Eng.), in the afternoon we go breakfasting, we all have experienced it. That we as human beings are not perfect, but we are all in the process of being good together, no one has the right to judge." Putro explained about the theme of "Marhaban ya Ramadhan" lyrics.

Musically CAKRUX still sticks to the concept of minimalistic and simple music with a four-string-guitar and a two-sting-bass. The combination of three chord punk, a bit of Motörhead seasoning and straightforward/simple lyrics without losing the essence of its meaning is the great strength of CAKRUX.

"Marhaban ya Ramadhan" is now available on all digital store channels via www.doggyhouserecords.com.