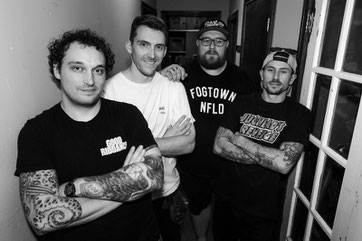 Toronto's masters of melodic hardcore, Brutal Youth, have just announced the release of their anticipated new LP Rebuilding Year (due out April 21st on Stomp Records) with an advance single and video for the song Through The Teeth. The single calls to mind late 80's and early 90's West Coast punk, with hints of Down By Law, Bad Religion and Lagwagon scattered throughout.
The melodic vocals of Patty O'Lantern dig into the themes of self loathing and isolation while the wall of guitars and pounding backbeat pushes the song to a crescendo of three part harmonies. Reminiscing on the meaning behind the lyrics for the new album's second single Through The Teeth, singer O'Lantern says "It's a pretty sour hate song honestly. To be truthful the entire first half of the record sort of feels that way. Sad, sour, aimlessly kind of wallowing in self pity. Melancholy, brooding, woe is me type stuff. This song stews for sure." The song, recorded by Steve Rizun at Drive Studios in Toronto, is a bit of a departure for the band. Describing the decision to play with the feel of the song, singer O'Lantern said "This one was one of the first songs we had for the album, the idea was to try and have an album with more tempos instead of them all being spit in your face fast. Not that we don't love spit in your face fast music, but I think we've done that and this was to be a bit of a departure and some space for growth. The breakdown originally had no words and it felt a bit empty, I'm pretty chuffed with the end result."
---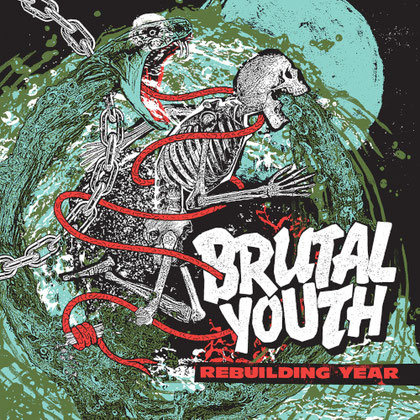 Brutal Youth play manic hardcore punk rock. They started out with three simple rules: play it fast; keep it under 90 seconds and don't be precious about repeating a hook… because when your songs are that short people can always just hit rewind and play 'em again. Over a decade later they've broken every single one of those rules. On Rebuilding Year (their 4th long-player) we find the band once again breaking the rules and rewriting their own playbook. 14 songs that range from mid-tempo melodic sing-alongs, to blistering fast knockout tracks (some that even break the 3 minute mark) on a record all about dealing with personal ruination, redesign, and redemption. Rebuilding Year is the Brutal Youth's most well-constructed and cohesive release to date. Tense and brooding about how life can grind you down into nothing, then melodic and resolute to make those necessary changes for the better because like they say "you get back what you put in."
---
Energetic, raw, honest, and heart on the sleeve punk rock, Brutal Youth have been causing a ruckus for the last 10+ years. Singer Patty O'Lantern, drummer Dustin Campbell, bassist Kyle Hynes, and guitarist Greg Hounsel formed the band in 2010. The band hit the ground running and recorded their first brutally fantastic album, "Spill Your Guts". Shortly thereafter the group uprooted themselves from their hometown of St. John's, NL and moved to Toronto. After settling into their new digs, Brutal Youth gained attention with their lightning-fast sets and blood-soaked high-intensity performances. A long list of records and touring ensued while the band honed their craft and caught the attention of various record labels. Stomp Records is proud to present their most current longplayer Rebuilding Year on beautiful blue marble vinyl. Keep an eye out for this punk rock tornado with a deluge of live shows planned for 2023.