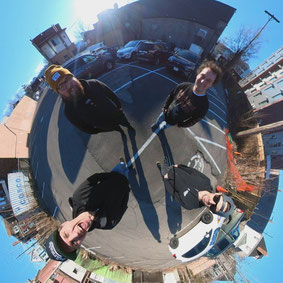 Toronto's masters of melodic hardcore, Brutal Youth, have just released their anticipated new LP Rebuilding Year (April 21st on Stomp Records) with a video for their title track Rebuilding Year.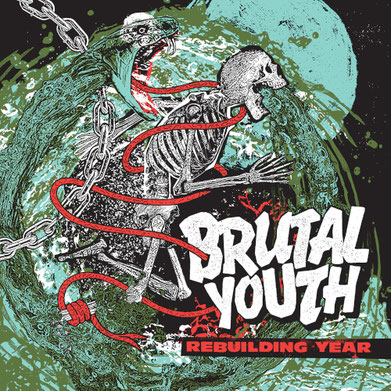 The album calls to mind late 80's and early 90's West Coast punk, with hints of Adolescents, Big Drill Car, ALL, NOFX and Good Riddance scattered throughout. The melodic vocals of Patty O'Lantern soar above the wall of guitars and a backbeat reminiscent of SNFU's Jon Card and Belke Brothers era. Reflecting on the meaning behind the lyrics for the album's title track Rebuilding Year, singer O'Lantern says "No matter where you are in life you can always flip everything and take control of your situation. It might be hard work, it might be overwhelming, but if you settle into doing the work you can rebuild on every pile of ashes. You can't spell hopeless without hope." The album, recorded by Steve Rizun at Drive Studios in Toronto, is an exercise in self-reflection. Describing the place he was in when the album was recorded, singer O'Lantern said "For the first half of this thing I was in a pretty terrible place personally, I got sick of being sad and took some time by myself in a cabin alone in the woods to collect myself. I started thinking I don't want to keep living the same year over and over. This one is a love letter to life and the power we have to transform it. It's also a love letter to 7 Seconds. The last song on the record, also the title track. This one means the most to me honestly because it was a projection of where I wanted to be instead of where I was. Our bassist, Kyle kept telling me to "disengage" from the negativity that I was immersed in - actually that was the working title of this song and the original idea for the name of the record "Disengage". This is my favorite track for sure".

Brutal Youth play manic hardcore punk rock. They started out with three simple rules: play it fast; keep it under 90 seconds and don't be precious about repeating a hook… because when your songs are that short people can always just hit rewind and play 'em again. Over a decade later they've broken every single one of those rules. On Rebuilding Year (their 4th long-player) we find the band once again breaking the rules and rewriting their own playbook. 14 songs that range from mid-tempo melodic sing-alongs, to blistering fast knockout tracks (some that even break the 3 minute mark) on a record all about dealing with personal ruination, redesign, and redemption. Rebuilding Year is the Brutal Youth's most well-constructed and cohesive release to date. Tense and brooding about how life can grind you down into nothing, then melodic and resolute to make those necessary changes for the better because like they say "you get back what you put in."
Energetic, raw, honest, and heart on the sleeve punk rock, Brutal Youth have been causing a ruckus for the last 10+ years. Singer Patty O'Lantern, drummer Dustin Campbell, bassist Kyle Hynes, and guitarist Greg Hounsel formed the band in 2010. The band hit the ground running and recorded their first brutally fantastic album, "Spill Your Guts". Shortly thereafter the group uprooted themselves from their hometown of St. John's, NL and moved to Toronto. After settling into their new digs, Brutal Youth gained attention with their lightning-fast sets and blood-soaked high-intensity performances. A long list of records and touring ensued while the band honed their craft and caught the attention of various record labels. Stomp Records is proud to present their most current longplayer Rebuilding Year on beautiful blue marble vinyl. Keep an eye out for this punk rock tornado with a deluge of live shows planned for 2023.