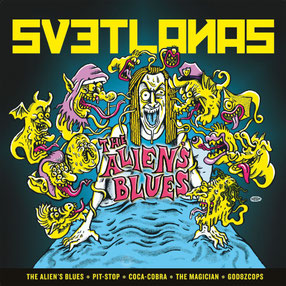 Often called "The Most Dangerous Band in the World", SVETLANAS manage to build a strong reputation in the music community enhanced by furious performances at international festivals like Vans Warped Tour (USA), Southby Southwest (USA), Punk Rock Bowling (USA), Rebellion Festival (UK), Extreme Fest (FR) and Dead Of Winter (AU) just to name just a few.
SVETLANAS has earned and maintained the respect of legendary bands suchas The Adolescents, D.O.A., The Dwarves, M.D.C, Bad Religion, Suicidal Tendencies, Sick Of It All, Phil Anselmo, Eyehategod, Jello Biafra and many more, giving life to international tours and record productions.
---
Nick Oliveri (Kyuss, Queens Of The Stone Age, Mondo Generator, The Dwarves) officially joined the lineup in 2016 recording along with the band "This is Moscow Not LA" LP at the official QOTSA's headquarters, Josh Homme's Pink Duck Studios, and performing a full month residency at the legendary Whisky a Go Go as a member of SVETLANAS. From that moment Nick will be part of every record release of the band, including "Disco Sucks" (2020) and the new release of "The Alien's Blues" (2023).

The release is a vinyl only release with an etched b-side. With an Artwork which can easily be described as another Masterpiece!