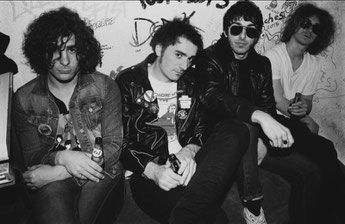 As smokin' as they are, previous releases from LES LULLIES were rushed through with impossible deadlines and little time to consider the ends. "Mauvaise Foi" - their new LP with resolutely French title (and their first record almost fully sung in the tongue) - takes a more laid back approach to manifest the desired energy, finding the boys swimming in a sea of change from their usual methodology.
The result is streamlined rock'n'roll with a new purpose: a stark contrast from yesterday's news while remaining truly Lullies. "Mauvaise Fois" sounds more personal and fleshy, dabbling in influences from Phil Spector to the Real Kids, classic punk from the Normandy scene (Fixed Up, Dogs, Sub Kids), and brimming with subtle, headphone-worthy layers and details.

"Mauvaise Foi" ("Bad Faith") as a title sums up this full-length with accuracy. Sometimes tackling somber subjects with tongue planted firmly in cheek, has no qualms breaking free to resonate with hilarity and their trademark cockiness like a brakeless derailing bullet train. Contained herein are stories about real-life characters sung by slightly mendacious rock'n'roll adventurers.
---