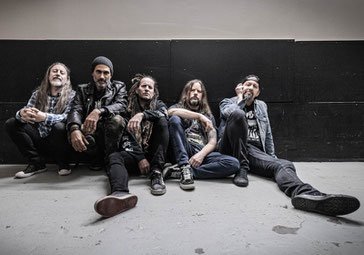 Vantablack Warship is a band that mixes thrash metal, hardcore, and punk into an abrasive and thunderous metal. Their music is rhythmic, contagious, aggressive, violent, caustic…
All with groove! The name of the group aims to pay homage to Black Sabbath. Vantablack is considered the blackest black in existence. Their mission is to be darker than the darkest of all, Black Sabbath. They have a new album, their third, being released next month entitled "Last of the Hard Mouthed Poets" and a music video available now for the single "Gone". They share their enthusiasm:
"We think that if there is one song from the album that could go to mainstream rock radio, it's this one! It was not our intention at the start, but it's our "radio-friendly" song and features an eye-catching bridge. We took a look at the first pandemic restrictions that we had and pushed the energy on this one as if it had been extended forever! Looks like Vantablack trying to make a System of a Down tune...!"
"Last of the Hard Mouthed Poets" is a pure adrenaline rush that shoots everything! The short songs are intense and punch you in the face with engaging and thoughtful lyrics. They bring a ton of energy to both their live shows and recordings, they are not one to miss!
---