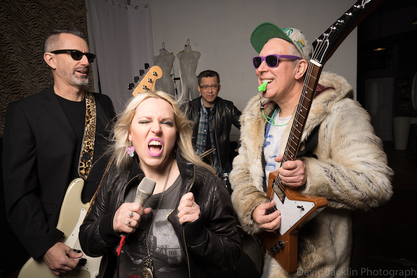 Vancouver's premiere power-poppers The Get Arounds have just released their new full-length album, I Wanna Live. Their songs meander from revved up numbers that seem to be pulled from The Dead Boys Young Loud and Snotty into hits with melodic choruses that call to mind power-pop classics like Nikki and the Corvettes.
Their singer angst fills the songs with 90's style punk-grit that are reminiscent of L7, Bikini Kill or Babes in Toyland. Guitarist Carman says  "I like short songs that stick in your brain. Don't bore us, get to the chorus type stuff. Lyrics usually come last. I listen to many types of music and I try to write a bit of everything, but most of it is trash. A few stick around and make it to an album!" The new single seems to draw on what Carman describes as the band's Influences - Ace Frehley, Sex Pistols, Steve Earle, and Blondie. When it comes down to writing the songs Carman says "It's mostly about the feel and the sounds. I find it a bit forced trying to make the song be a certain idea. It's better if I just let them evolve into whatever they are becoming and attach a meaning later when I can understand what the song is about. I never write the words on paper because then they never change for the better. Making the album I just tried to write as many songs as I could in the time we had. And we also used a couple old songs I had kicking around for years. They sound a lot better with Lana singing them!"
---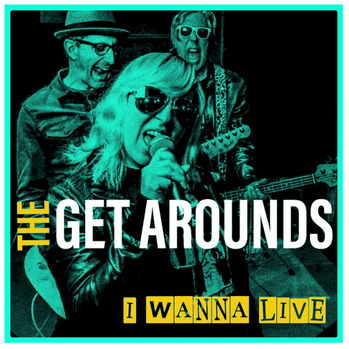 The Get Arounds are a Canadian rock band from Vancouver, BC featuring Lana Ryma on vocals, Carman Lethbridge on guitar, Paul Albert on bass and Eric Lowe on drums, Formed during the covid lockdown, Carman and Lana were stuck in their house writing songs and making demos. Lana, a career drummer and venue owner, always wanted to try singing and finally had the time to learn a new instrument. It became immediately obvious she was meant to be the lead singer and she is definitely the sound of The Get Arounds. Add in the flavors of longtime musical collaborator Paul Albert and Vancouver celebrity drummer Eric Lowe and The Get Arounds are quickly becoming one of Vancouver's most exciting bands to see. They're thrilled to celebrate their first full-length recording The Get Arounds - I Wanna Live, 14 songs mostly written by Carman that were recorded and mixed by super talented producers Rene D La Muerte and Jason Solyom. The Get Arounds - I Wanna Live is proudly in the vein of "Don't bore us get to the chorus" high energy rock and roll that somehow balances the familiar with the new.