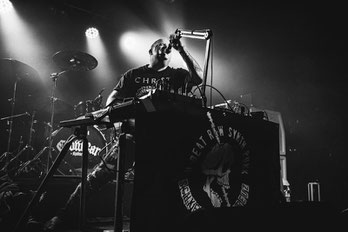 'Joy' is the infectious and stomping new song from Schkeuditzer Kreuz: expat New Zealand DIY punk veteran, Kieren Hills, who now creates abrasive, dark, apocalyptic post-industrial music in a cabin that he built in the forested Blue Mountains of New South Wales, Australia. Premiering via Side-Line.com in Europe on Tuesday (30 May 2023), with a video created by Jason Fuller of Goatsound in Melbourne, 'Joy' is the first new track shared from Schkeuditzer Kreuz's forthcoming second album, 'No Life Left', and can be downloaded Free from Bandcamp now.
---
"Joy is the end – unbridled ecstatic destruction – the warming glow of smashing glass, the satisfaction of a hammer through a wall. Break what breaks you –find the structure that's keeping you under, and tear it apart, raze it to the fucking ground."
The full album 'No Life Left' releases on vinyl LP, cassette, and digital formats in August 2023, through Bad Habit Records in Australia.'No Life Left' by Schkeuditzer Kreuz will be distributed in the US through Sorry State Records, and supported in the UK and Europe by live tourdates spanning September and October.
14/09/23 Newcastle UK
15/09/23 Bradford UK
16/09/23 London UK
19/09/23 Wiesbaden Germany
21/09/23 Copenhagen Denmark
22/09/23 Oslo Norway
23/09/23 Stockholm Sweden
29/09/23 Berlin Germany
30/09/23 Leipzig Germany
01/10/23 Eisenberg Germany
02/10/23 Neugersdorf Germany
05/10/23 Ostrava Czech
06/10/23 Prague Czech
07/10/23 Bratislava Slovakia
08/10/23 Vienna Austria
12/10/23 Bologna Italy
14/10/23 Alessandria Italy
15/10/23 Milano Italy
18/10/23 TBC Switzerland
19/10/23 Biel Switzerland
20/10/23 Kreuzlingen Switzerland
21/10/23 Stuttgart Germany
---