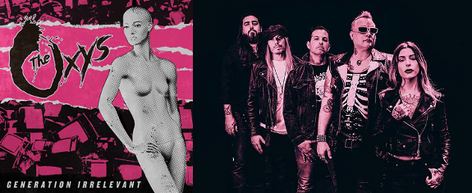 The Oxys from Austin, Texas deliver dirty, punked-up, power pop, gutter rock on their sophomore release titled, Generation Irrelevant. The album drops July 21, 2023 on Cleveland's Dead Beat Records. Fans of the Dead Boys, Teenage Head, The Damned, and The Heartbreakers will fully appreciate these songs.
---
Generation Irrelevant will street a mere eight months after the band's debut full length, A Date With The Oxys. The potent songwriting team of guitarist Jason "Ginchy" Kottwitz (Dead Boys, Sylvain Sylvain and The Sylvains) and vocalist "PunkRockPhil" Davis are back with a vengeance.
From opener "Ticking Time Bomb's" flame-thrower guitars and sky-punching "whoa-whoa" hooks, to "Isolation's" chiming, intense evocation of pandemic-bred shielding and claustrophobia, to the rumbling "Screaming In Silence," these tracks deliver what fans have been anticipating.
"As per the usual, I sent Phil a truckload of new demo tracks for this second record." Ginchy explains, "A few with lyrics and vocal melody, some without. I provide him with my vision to help with direction, but he takes it from there. After Phil-ing in all of the blanks, he sent his favorite tracks back over. I let out a big 'f*ck yeah' and we made our way to the studio. What people don't know is Phil was literally in a coma for many days and on his deathbed prior to the making of this record. It's nothing short of a miracle the record was ever completed. His ability to come back from that and give a vocal performance with such ferocity is mind blowing. Gabe and Rob couldn't have been tighter as a rhythm section. I cannot wait to get this show on the road. The live show is punishing with the new material in the set."

"Having been laid out in a coma, I had to make a vigorous comeback, stronger than ever" says vocalist Phil Davis. "Stepping into the studio to record Generation Irrelevant served as the ideal remedy. With Rob Williamson on the drums and Gabe back on the bass, the rhythm section was punishing, setting the stage for my return. Ginchy and I rose to the challenge of heightened level of aggression on this record, and it shows."
"We recently added a new rhythm guitarist named Genocide," Ginchy says. "She nails the guitar parts, and is applying her talents in the areas of video, photography, marketing, and more. Plus she maintains a positive attitude when the struggle of being a musician becomes real. The Oxys are lucky to have her onboard. It's already been suggested by fans that we change the name of the band to "The Foxys". I'm guessing they aren't talking about me."
Genocide says: "Generation Irrelevant is that painful yet curiously arousing clock to the jaw that says everything we've all been thinking: 'I'm angry, you're soft, we're all in this alone so let's get weird'. Ginchy  and Phil truly reveal more of their range as a songwriting duo on this record with more explosive and technical guitar leads and fist-clenching vocal melodies that make swallowing razors seem like a delicacy."

The band recorded the album at Ice Cream Studios with Matt Parmenter. Ginchy completed the final mix at his home facility. Famed mastering engineer Jack Butcher at Austin's Enormous Door Studio added the finishing touches. Formats include vinyl LP, CD (which includes two bonus tracks) and digital.
---