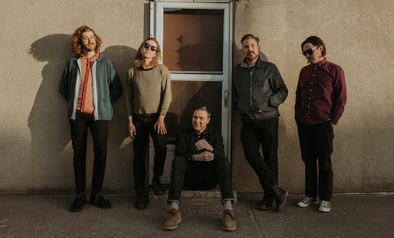 The Projectors have just released their debut self-titled LP on Sakamano Records with an accompanying video for the song "Golden Age". The Projectors began with a new batch of songs  that prolific singer/songwriter Dylan Rysstad was writing in 2019.  According to Rysstad, "With the first couple songs, 'When the Lights Came Up' and 'Golden Age', I really embraced certain influences and didn't try to obscure or hide the  fact that it was starting to sound like someone else. The songs I've been writing for this  project are what I want to be playing and listening to, and somewhat ironically, I feel like  it's the most 'me' if that makes sense."
That "someone else" Dylan is referring to is The Strokes — an apt point of reference for  both their live show and recorded output. The rest of the songs that make up the album,  recorded at Layten Kramer's home studio, came in bursts of inspiration after putting a band together to play this new material. Unsurprisingly, the pandemic and ensuing  lockdowns/safety precautions delayed the album's completion and release date. Lead single "Golden Age" is a danceable and upbeat examination of modern romance and relationships: "And it's okay  that you don't write me back. It's only been forever. And it's okay, it's the golden age of indifference. So what's the difference now?" It's a perfect summer anthem that evokes a  simpler time in the early aughts when The Strokes' Last Nite was on every rock radio  station and skinny jeans were cool.
The Projectors are a five-piece indie/garage rock band based out of Victoria, BC, led by singer/songwriter, Dylan Rysstad (Isotopes Punk Rock Baseball Club, The Jolts, Mandelbaums) on vocals, Robbie Shirriff (Old Towns, Bufflehead) on guitar, Dustin Tiljoe (Surveyors, The Smears) on second guitar, Conor Brandt (Rampant Lion, Good Grief) on bass, and Evan Matthiesen (The This, Fall Fair Car) on drums.

2023 is shaping up to be a busy year for the band with festivals and touring planned, including shows with Daniel Romano's Outfit and The Dirty Nil. Not unlike Romano's ability to shift between genres, Dylan has an extensive and varied catalog ranging from folk/country to hardcore punk. The two worked/recorded together on Rysstad's fifth solo release, Halfway Houses. The Projectors have established themselves as a buzz-worthy band that has the ability  to appeal to both die-hard indie rockers, and the average listener who may not know who Guided by Voices or The Replacements are. With an undeniably strong debut record, an album's worth of new material ready to record, a growing fanbase and the drive to tour, The Projectors are ready for the spotlight.
---