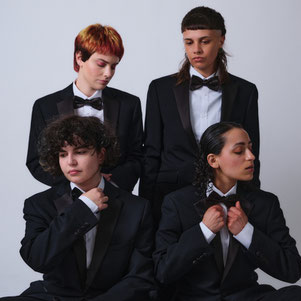 Anglo-Maltese quartet ĠENN announce their debut album "unum" - set for release on October 6th through Liminal Collective. The latest single from it - 'Days And Nights' - comes out today, June 13th. It follows April post-punk stomp 'A Reprise (That Girl)' and the eerie sing-song of 2022's 'Rohmeresse' in setting out their thoughtful, provocative intent.
Built around a swampy groove, 'Days And Nights' rolls heavily forwards in its assuredness. Vocalist Leona Farrugia's vocals oscillate between semi-spoken commands in the verses, never breaking eye-contact - and untethered, vibrato howls during the choruses.
'Days and Nights' offers a sense of the inherent juxtaposition that life offers, the lightness of experience often leading us in deeper rumination about our position in the world. It's an ongoing process, a floored quest for completion as the sun continues to rise and fall.
---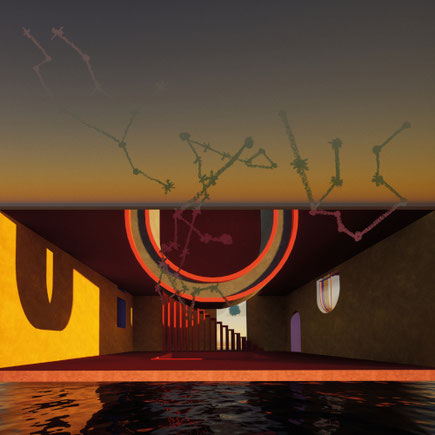 'This rumination is close to heart, almost comic at times. The parachute of experiences can leave you numb and unsettled, I often feel that one can never be fully equipped to what life has in store'
It comes with a visually arresting music video directed by Charles Gall who worked with Sports Team and English Teacher, amongst others.
Along with the album announcement comes the launch of an interactive online visual space unum 3D which the band describe as: "a spatial concept designed to present some of the facets of the mundane. This representation on a computer screen slowly presents us with unexpected turns and surprising tricks that makes some of it not so mundane. As a companion to the album, the house exists to engage with the lyrical themes in a dimension outside of, but in tandem to, what the music offers."
The quartet has a resolutely independent streak - as evidenced by the visual world entirely created by lead-vocalist Leona, as well as the establishment of the Liminal Collective through which they'll be releasing their music. They have an untrammelled attitude towards fusing the personal with the political via their amorphous sound, which touches on post-punk, art-pop, psych-rock, noise-rock and more.

Majority queer, the first iteration of the band started 10 years ago in Malta, before moving to Brighton. Over this time they have built determined bonds as a self-described sisterhood, founded on instinctive trust and affection.

They are a group with multinational backgrounds, covering Maltese, British, Jamaican and Portuguese roots across the four members. Their position as immigrants (or coming from immigrant backgrounds) has shaped their experience operating within the UK music industry. An intersectional gaze revealing the need for more minorities within music.