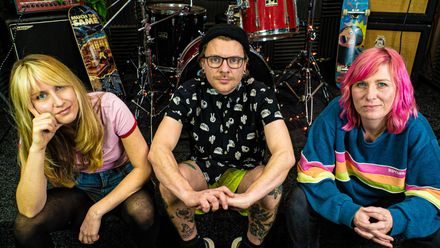 The song highlights the disillusionment around the problems we face in the world, encouraging listeners to confront these issues head-on with solidarity and hope.

In the words of Jo D, the band's lead vocalist, and guitarist, "When you actually sit down and think about how fucked the world is and that you're part of that mess, it can feel overwhelming. Some of us have gotten very good at justifying our actions due to their convenience, or some of us simply stick our heads in the sand."
"Lyrically, Never Ending Story comes from my own battle with feeling helpless about the state of the world and not wanting to give up hope that if we come together in solidarity, we will prevail."
Never Ending Story is the first single from the band's upcoming album, 'CURRANT TIMES' which offers a fresh mix of 80s and 90s punk rock and dance/pop culture, energetic beats, playful tones, and powerful messages about mental health, social issues, and protecting our planet.
"We want to make music that's fun but also meaningful," says Jo. "We want to use our platform to inspire change and connect with people who are trying to make the world a better place."
---
Band Biography
Raisin Awareness is a passionate pop-punk band hailing from the UK. The band formed in 2020 during lockdown when Jo (vocals/guitar) and Rob (drums) seized their creative opportunity. Soon after, Daggi joined on bass, making them an unshakable musical trifecta inspired by bands such as Hot Mulligan, The Swellers, The Flatliners & The Menzingers, and an 80s/90s mashup of genres.