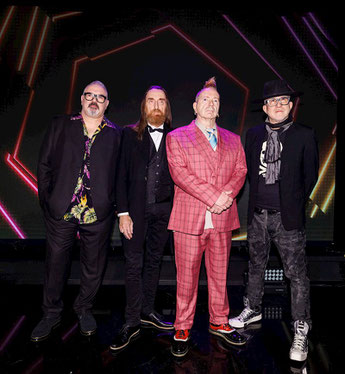 Public Image Ltd. (PiL) share new single Car Chase, taken from their forthcoming 11th studio album and first album in 8 years, End of World, released on 11th August 2023 on PiL Official LTD via Cargo UK Distribution. It is followed by a 38-date UK and European Tour.
The video to Car Chase, gives an insight into the recording of the new album, and features handwritten lyrics by John Lydon. Talking about Car Chase, John said, "Typical PiL, unpredictable to the last. It's a fantastic smash and grab of a song. It's about someone who cleverly breaks out of the mental institution every night, unbeknownst to his owners. It's based on having to go to shopping malls at night for cigarettes and wine, and seeing the vast carpark space and lighting surrounded by a little village and a lot of dark trees and country lanes. It's a really creepy scenario, what if somebody creeps out of there, like a mad lunatic?"
Earlier this year, PiL released Hawaii, the most personal piece of songwriting and accompanying artwork that John Lydon has ever shared. The song is a love letter to John's wife Nora, who sadly passed away from Alzheimer's on Wednesday 5th April. A pensive, personal yet universal love song that has resonated with many since its release in January, the song sees John reflecting on their lifetime well spent and in particular one of their happiest moments together in Hawaii. John said, "Nora loved the album, she wouldn't have wanted us to postpone it or change any of our plans." Previously he has said of Hawaii, "It is dedicated to everyone going through tough times on the journey of life, with the person they care for the most."  

They followed Hawaii, with Penge, which John describes as, "something of a mediaeval Viking epic."

The band began writing and recording End of World in 2018, during their 40th anniversary tour. After The Great Pause, the band regrouped in the studio and "there was just this massive explosion of ideas," Lydon says. The result finds PiL set to release 13 of the best tracks they have ever written.

Celebrating their 40-year anniversary in 2018, the band is widely regarded as one of the most innovative and influential bands of all time.

PiL's music and vision has earned them 5 UK Top 20 singles and 5 UK Top 20 albums. With a shifting line-up and unique sound - fusing rock, dance, folk, pop and dub – Lydon guided the band from their debut album First Issue in 1978 through to 1992's That What Is Not, before a 17 year hiatus. Lydon reactivated PiL in 2009, touring extensively worldwide and releasing two critically acclaimed albums This is PiL in 2012 followed by their 10th studio album What The World Needs Now… in 2015, which peaked at number 29 in the official UK album charts and picked up fantastic acclaim from both press and public. (The album also peaked at number 3 in the official UK indie charts and number 4 in the official UK vinyl charts). What The World Needs Now… was self-funded by PiL and released on their own label 'PiL Official' via Cargo UK Distribution. In 2018 PiL celebrated their 40th anniversary with a career-spanning box set and documentary, both called 'The Public Image Is Rotten'.

John Lydon, Lu Edmonds, Scott Firth and Bruce Smith continue as PiL. They are the longest stable line-up in the band's history and continue to challenge and thrive.
---
UK Tour Dates
Fri 8th Sept - Sheffield - Leadmill
Sat 9th Sept - Leeds - The Woollen Mill  
Mon 11th Sept - Swansea - Patti Pavillion
Tue 12th Sept - Margate - Dreamland
Wed 13th Sept - Lincoln - Engine Shed
Fri 15th Sept - Blackburn- King Georges Hall
Sat 16th Sept - Buckley - Tivoli  
Mon 18th Sept - Sunderland - Fire Station
Tue 19th Sept - Scotland - Aberdeen Beach Ballroom-
Thurs 21st Sept - Edinburgh - O2 Academy
Fri 22nd Sept - Manchester - O2 Ritz
Sat 23rd Sept - Holmfirth - Picture Dome
Mon 25th Sept - Coventry - HMV
Tues 26th Sept - Brighton - CHALK
Thurs 28th Sept - Bristol - O2 Academy
Fri 29th Sept - Torquay - Foundry
Sat 30th Sept - London - The Forum
Europe Tour Dates
Mon 2nd Oct - Germany - Cologne - Kantine
Wed 4th Oct - The Netherlands - Amsterdam - Paradiso  
Thurs 5th Oct - Belgium - Gent -Vooruit  
Fri 6th Oct - Germany Stuttgart Im Wireman
Sun 8th Oct - Germany - Hamburg - Gruenspan
Mon 9th Oct - Sweden - Gothenburg - Pustervik
Tues 10th Oct - Sweden - Stockholm - Nalen
Thurs 12th Oct Estonia - Tallin - Helitehas
Fri 13th Oct - Finland - Helsinki - Ääniwalli
Sun 15th Oct - Germany - Berlin - Metropol
Mon 16th Oct - Czech Republic - Prague - Lucerna Music Bar
Tues 17th Oct - Czech Republic - Brno - Fléda club
Fri 20th Oct - Spain - Madrid - Shoko
Sat 21st Oct - Spain - Barcelona - Salamandra
Sun 22nd Oct - Spain Bilbao - Cafe Antzokia
Tues 24th Oct - Portugal - Porto Hard Club
Wed 25th Oct - Portugal - Lisbon LAV
Fri 27th Oct - France - Paris - Le Trianon
Sun 29th Oct - Switzerland - Lausanne - Les Docks
Mon 30th Oct - Italy - Milan - Magazzini Generali  
Tues 31st Oct - France - Strasbourg - La Laiterie
Public Image Ltd: John Lydon - After fronting the Sex Pistols, John Lydon formed Public Image Ltd in 1978.  Outside of PiL John has released several solo records and collaborations. He also brings quality TV to the masses. He has released two autobiographies; 'Rotten: No Irish, No Blacks, No Dogs' in 1994 and 'Anger is an Energy: My Life Uncensored' in 2014. He then released 'Mr Rotten's Songbook' in 2017, which features never before seen artwork as well as annotated song lyric sheets spanning John's entire career, all written in his own hand.
 
Lu Edmonds - Multi instrumentalist and former guitarist in The Damned, Lu joined PiL in 1986 recording and playing on the album 'Happy?' and co-writing the  album '9', adding yet another dimension to the PiL sound.
 
Bruce Smith - Drummer in The Pop Group and formerly of The Slits Bruce became percussionist for PiL in 1986 playing and recording on the albums 'Happy?' and '9'. Seen as a drumming virtuoso, Bruce brought his unique style into the fold.  
 
Scott Firth - A bass player/multi instrumentalist that has collaborated and played with a variety of top musicians and bands including Steve Winwood, John Martyn and Elvis Costello. Scott is the newest member of the band, having joined in 2009.