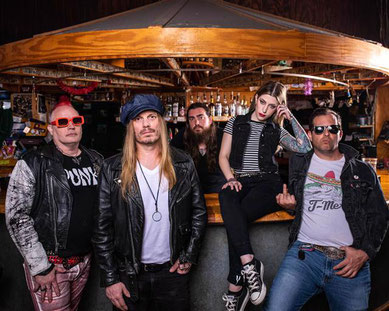 This is the first single from the band's sophomore album titled, Generation Irrelevant, slated for a July 21st release date on Dead Beat Records.
"It's about Sid Vicious." says guitarist Jason "Ginchy" Kottwitz (Dead Boys, Sylvain Sylvain and The Sylvains) "Freddie Mercury called Sid Vicious 'Mr. Ferocious' because when Sid first met Freddie, Sid asked him if he had succeeded in bringing ballet to the masses.
Sid was clearly being a smartass and sassing Freddie. One time when Sylvain Sylvain (New York Dolls) was staying at my house, he told me this story and got the name wrong. Instead of saying 'Mr. Ferocious', he was saying 'Mr. Horrible'. I found it charming and decided to write a song about Sid, and stick with Sylvain's version of the name."
---
The video was directed and edited by Baris Oztimurlenk and Holly Jee. The band recorded the album at Ice Cream Studios with Matt Parmenter. Ginchy completed the final mix at his home facility. Famed mastering engineer Jack Butcher at Austin's Enormous Door Studio added the finishing touches. Formats include vinyl LP, CD (which includes two bonus tracks) and digital.