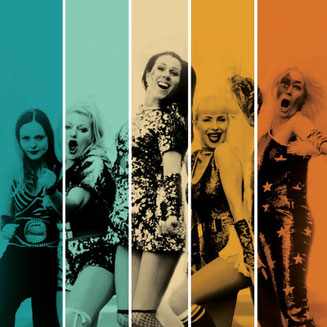 Brace yourselves for an electrifying rock 'n' roll experience as Norwegian sensations Cocktail Slippers, prepare to release their highly anticipated single, "Good Love."

Renowned for their stadium rock anthems, captivating stage presence, and unforgettable performances, Cocktail Slippers are set to take the music world by storm once again.
Scheduled for release on June 30th, "Good Love" is a powerful rock 'n' roll ode to love and empowerment that delves into the story of a girl who seemingly had it all. Yet, despite all her possessions, she learns that what she truly really needs is something more profound- genuine and good love.

The track echoes the timeless words of The Beatles, reminding listeners that love is the ultimate necessity in life. Recorded live at the renowned Propeller Studios in Oslo, "Good Love" showcases the raw energy and passion that Cocktail Slippers bring to their craft. The band's impeccable musicianship and the seamless chemistry between its members are evident in every note, ensuring an immersive listening experience that will resonate with rock enthusiasts worldwide.

Drawing inspiration from the energetic spirit of 60s and 70s garage rock, Cocktail Slippers infuse "Good Love" with a raw and captivating sound. The song's catchy hooks, dynamic guitar work, and anthemic vocals create an irresistible blend that will have audiences feeling the surge of positive energy. With a surprising rough edge towards the end, reminiscent of rock legends like Black Sabbath, Led Zeppelin, and Deep Purple, Cocktail Slippers showcase their versatility and pay homage to their rock 'n' roll roots.

With their latest album, "Shout It Out Loud!," receiving critical acclaim, Cocktail Slippers have solidified their position as a force to be reckoned with in the rock music landscape.

Their energetic live performances, visually striking stage presence, and unwavering passion for rock 'n' roll have garnered them a dedicated fan base worldwide.

As the world yearns for the excitement of live music, Cocktail Slippers are ready to deliver unforgettable performances that will leave audiences electrified. With their upcoming shows, featuring new stage outfits inspired by superheroes and 70s glam, Cocktail Slippers are set to create an immersive and visually stunning experience for fans.

The band will come back to the USA in November for a tour on the East Coast.
About Cocktail Slippers:
Cocktail Slippers are a Norwegian rock band known for their exhilarating live performances and infectious sing-along anthems. With a sound deeply rooted in the rich history of rock 'n' roll, Cocktail Slippers have garnered a loyal fan base and critical acclaim both in Norway and internationally. Their music blends elements of garage rock, punk, and pop, creating a unique sonic tapestry that never fails to captivate audiences. With a string of successful releases and electrifying shows under their belt, Cocktail Slippers continue to push the boundaries of rock music while leaving an indelible mark on the industry.