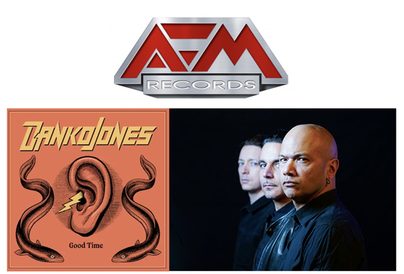 Following their previously-released album single, the hell-for-leather rager "Good Time", today, Canadian rock trio DANKO JONES share a new lyric video!

September 15, 2023 will see the undisputed kings of balls-out rock'n'roll release their much-awaited studio album titled Electric Sounds through AFM Records. The band's eleventh offering promises to have the instant sound and feel of a classic. Hands down, with DANKO JONES, you are going to have a good time, rock as hard as you can, always at full volume!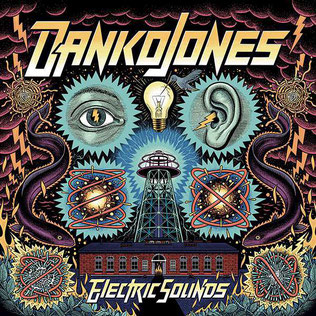 As charismatic frontman Danko recently said, "'Good Time' is the song you need to hear when you're not ready to throw in the towel. It also rocks very very very hard and has a lot of swear words." In addition to the hilarious karaoke-themed music video featuring a guest appearance by Inge Johansson (currently in Gatuplan, previously of Against Me! and International Noise Conspiracy), that has been released earlier, now it's your turn to sing along! A new lyric video for "Good Time" is now premiering here:
From the spiky blues of 2002's Born A Lion and the crazed power-pop of its follow-up We Sweat Blood (2003), to the priapic perfection of 2010's Below The Belt, the band's knack for hitting rock's sweet spot has never wavered. Formed in Toronto in 1996, DANKO JONES have seen and done just about everything over the last quarter of a century. Powered by a DIY punk rock spirit, and inspired by the good, great and grotesque of electrified rock 'n' roll, they have steadily built a colossal international fan base and become one of the most acclaimed live bands around, embraced by everyone from mainstream radio-rock fans to diehard metalheads. Along the way, they have released ten widely praised studio albums, generating a peerless repertoire of fists-in-the-air crowd-pleasers into the bargain.

Since frontman Danko and bassist JC joined forced with drummer Rich Knox, the band's creative fire has blazed more brightly than ever. A succession of all-killer, no-filler albums – Fire Music, Wild Cat, A Rock Supreme, Power Trio – has led to even more gung-ho touring and unapologetic service to the rock cause. With Electric Sounds, Toronto's archbishops of amplification prove that even a global pandemic couldn't stop them. Armed with yet another stone cold classic, DANKO JONES are on a renewed mission to rock the living shit-lights out of anyone and everyone that wants to join the party. After 27 years of active service, the trio's commitment and intensity continues to grow, and their popularity and prominence continues to follow an upward route.