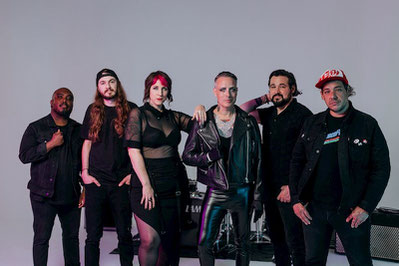 "Als Auftakt zu einem Album, das zum Aufstand gegen alte Systeme und alte Ideale inspirieren soll, ist 'Screaming for a Change' eine Hymne für alle, die bereit sind, ihre Macht zurückzuerobern", sagt Nathan Gray. "Wir wussten, dass dieser Song die perfekte Wahl war, um unser Album zu starten (der Song ist auch Track 1 auf dem Album) und uns der Welt vorzustellen, da er perfekt vorgibt, was man von The Iron Roses erwarten kann - politisch aufgeladener, hymnischer Punkrock mit Reggae-, Ska- und, ja, sogar einigen Post-Hardcore- und Metal-Einflüssen. Dies ist ein Song, der mit beiden Beinen fest im Leben steht und den Mittelfinger in die Luft streckt. Wir geben nicht kampflos auf."
Die noch recht frische Band um Nathan Gray, bekannt von Boysetsfire, I Am Heresy sowie einem Soloprojekt, kündigt ein komplettes neues Album und vier eigenständige Singles über Iodine Recordings und SBÄM an. Nach ihrem Debüt 2021 und ersten Touren in Nordamerika und Mitteleuropa als "Nathan Gray and the Iron Roses" wurde die Band nun zu The Iron Roses.
 "Screaming For A Change" wird am 14. Juli veröffentlicht. Zum dazugehörigen Video sagt Sängerin Becky Fontaine:
"Mit dem Video stellen wir uns der Welt vor, nicht nur durch unsere soziale und politische Botschaft, sondern auch durch unser Herz als vielfältige Gruppe von Menschen, die sich selbst nicht zu ernst nehmen. Wenn wir zusammen auf der Bühne stehen, haben wir die Zeit unseres Lebens, und wir wollten wirklich, dass das Video diese Freude und unsere gemeinsame Chemie widerspiegelt. "Screaming for a Change" muss nicht wütend sein, es kann auch fröhlich und lebensbejahend sein. Einfach in Liebe und Autonomie zu existieren, ist ein Mittelfinger in das Gesicht derer, die uns im Elend versinken sehen wollen; wir können genauso gut strahlen!"
---
About The Iron Roses
The Iron Roses  — Nathan Gray (They/Them), vocals; Becky Fontaine (She/Her), vocals; Philip "Eugenius" Smith (He/Him), guitar and vocals; Pedro Aida (He/Him), guitar and backing vocals; Michael Espinosa (He/Him), bass and backing vocals; and Steve Cerri (He/Him), drums —  are a passionate, unique, and beautiful group of people making music that we hope will change the world. Fueled by the injustices of our current times - their songs are the kind of protest anthems that only a group of seasoned musicians could make. Still angry, still driven, and still screaming – this is a band that will never give up the fight.
 
  It takes serious talent to write and sing songs that sound angry whilst the music lifts your spirits. So much of political punk is abrasive and unpleasant. No hooks. No melodies. But other times passionate and irate words sound incongruent with emotionless and insipid music. The Iron Roses manage something rare and commanding with music that lifts the heart coupled powerfully with lyrics that express fury and resentment of the current world.
 
  Punk as a genre has been so commodified and diluted over the last decades that it seems to be ever increasingly hard to find bands that resonate this way. That sing and play with such intensity that their authenticity cannot be questioned. That prove that true punk is alive and well and can have you dancing around your kitchen singing along at the top of your voice.
 
 Yes, we can discuss their pedigree, most notably their frontperson Nathan Gray (of Boysetsfire), and their relentless touring and political activism. But none of those things matter if the songs don't connect with the listener. And this collection of songs are going to do just that. From the opening notes of the first song the cards are on the table. The objective is clear – The Iron Roses are putting to words and music all the thoughts you've had these last few dark years. With the worldwide political climate leaning further and further from the left. With rights for many being limited and destroyed. With no end in sight. We need bands like The Iron Roses giving us a soundtrack to fight. Songs to pour our anger and frustration into when we sing along - just as they did when they wrote and recorded them – and will be doing so from stage when they hit the road hard this autumn.
 
 The beauty of seeing these six individuals singing their truth is astounding. Watching them grow from strength to strength in the last few years it is unsurprising that this record is the outcome. They, and their songs, represent such power, love, and passion – something that we need more than ever in this world today.
 
 "The video for "Screaming for a Change" is our introduction to the world, not only by its assertion of our social and politically-forward message, but our hearts as a diverse group of humans who don't take themselves too seriously. When we are on stage together, we are having the time of our lives, and we really wanted the video to reflect that  joy, and our chemistry together. Screaming for a change doesn't need to be done in anger, it can be joyful and life-affirming. Simply existing in love and autonomy is a middle finger in the face of those who wish to see us stay down in misery; might as well shine!" - Becky Fontaine / The Iron Roses