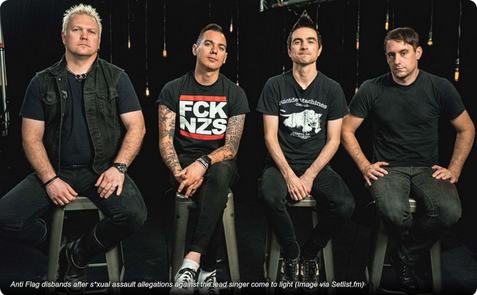 Anti Flag band member Justin Sane was accused of s*xual assault in an explosive podcast interview, which has left followers shocked. Although the victim did not mention his name, netizens were quick to add up the clues she provided about the "lead singer." Many were confused after the band announced on Patreon that they were breaking up. However, netizens seemingly understood why they did so after the allegations appeared online.
Trigger Warning: The following article contains details related to s*xual assault.
The Pennsylvania-based rock band had deleted their website and social media accounts at the time of writing. However, they uploaded a statement on their official Patreon, which read:
"Anti-Flag has disbanded, the patreon has been switched into a mode where it will no longer charge the monthly fee. I will begin to process refunds to all patrons in the coming weeks. One all the refunds are processed the patreon page will also be removed."
---
The social media page deletion happened on the same day that a victim accused Justin Sane of s*xual assault during a podcast interview.
---
Allegations against Anti Flag's lead singer explored
The victim Kristina Sarhadi appeared on the Enough podcast. The New York-based "therapist and reiki-master" did not directly name Anti Flag's Sane. However, she referred to him as the "lead singer" in the podcast. In the hour-long podcast, she explained how the punk scene became a safe haven for her while she suffered from a difficult home life. She expressed during the interview that the band was one of her favorites since she was just 9 or 10 years old.
Speaking of one of the times she saw the band perform, Sarhadi explained:
"I had seen them a million times before. They were one of my favourite bands to see live. I obviously went right up to the front row, and during the show, the lead singer and I had that moment where, like you lock eyes, and then you're just singing to each other."
---
The victim also stated that she ended up meeting Justin Sane at the end of the Anti Flag concert. The duo proceeded to exchange numbers and make plans to meet at a film festival close to her locality.
Following their time together at the film festival, the singer asked Sarhadi if she could drive him to a party in the woods. During their travel, he reportedly got touchy with her and started hitting on her. At one point, he repeatedly asked her to get into the backseat with him. However, she declined the offer.
After the party, the singer went on to kiss another girl outside of her house as Sarhadi stayed with him. She said:
"I immediately felt like the worst person in the world."
---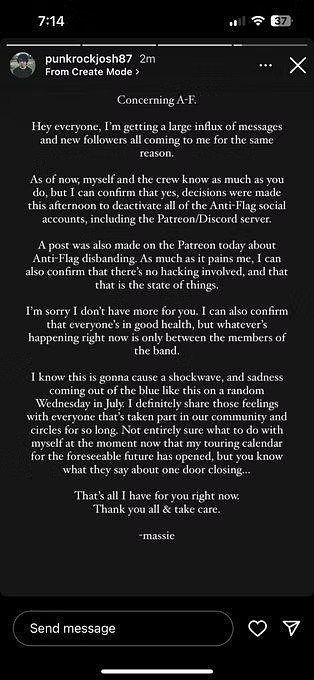 The night ended with Sarhadi landing up in Sane's hotel room while inebriated. The latter then threw her on the bed after screaming, "football tackle." Speaking about the assault, Sarhadi said:
"As soon as I hit the bed he put his hand around my throat and basically turned into a monster. There were several moments that I thought I was dying. I definitely may have passed out or thought I was about to pass out."