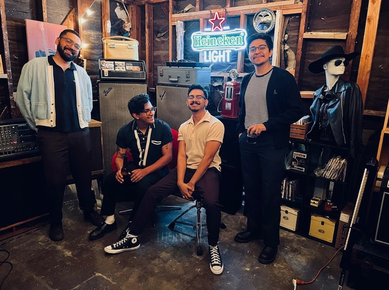 Frontman Rafa Heredia says, "This is a song about self reflection after having maybe a pint too many at your favorite divey hole in the wall, it's a callback to tracks like "Alabama song (Whisky Bar)" by The Doors - the song lends itself to telling a fun twisted story while not taking itself too seriously."
Taking inspiration from 60's surf, fuzz, punk and reverb-filled guitar tones, 3LH bring a sense of newness to a classic sound. Comprised of Rafa Heredia (Guitar/ Vocals), Johnny Villanueva (Keys/Guitar) Kevin Carranza (Drums) Favian Vega (Bass), 3LH deliver the tones of the likes of guitar virtuosos like Link Wray, The Kinks, mixed with the garage / punk sensibilities of modern acts like The Growlers, The Frights and Tijuana Panthers.

Immersed in the Latino punk/garage DIY scene of Orange County, 3LH has made a name for themselves having played to packed crowds at The Observatory, Constellation Room, The Garden Amphitheatre, The Smell and shared the stage with diverse acts including Tijuana Panthers, Tropa Magica, The OC Hurricanes, Mystic Braves and more.
---