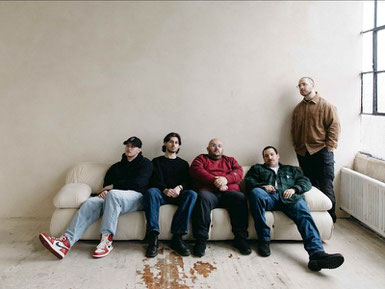 Long Island upstarts Koyo have announced their debut full-length, Would You Miss It?, due out September 29th from Pure Noise Records. In just a few short years the band have been turning heads with their unabashedly heart-on-sleeve blend of punk, hardcore, and emo, and now Would You Miss It? makes good on that early promise with their most satisfying release to date.
To mark the announcement, Koyo have shared the album's first single "You're On The List (Minus One)." Driven by huge guitars and a heavyweight chorus, the track is a perfect introduction to Koyo's hyper-anthemic sound. The song's accompanying music video is a tongue-in-cheek testament to the Koyo's ability to tie together different generations of East Coast punk and hardcore, featuring winking appearances from Frank Iero of My Chemical Romance, modern hc favs Regulate, photographer Michael Dubin, and producer Jon Markson.
---
Emerging from the Long Island underground with members of Typecaste, Hangman, and Rain of Salvation, Koyo hit the ground running with a sonic style that fully embraces the sound of their legendary scene. Drawing on elements like the widescreen melodies of Taking Back Sunday or the tuneful grit of Silent Majority, the band have managed to wear their influences proudly while cultivating songwriting chops that speak for themselves. Would You Miss Is? was recorded by Markson (Drug Church, Taking Meds, One Step Closer) and his deft production sounds gigantic without sacrificing the basement show rawness of Koyo's sound. It's an album that figuratively and literally brings together the past and present of East Coast punk, with appearances from Glassjaw's Daryl Palumbo, The Movielife's Vinnie Caruana, and Vein.FM's Anthony DiDio. The result is a modern coming-of-age classic that's fit for any generation of listeners.
Koyo will support Stick To Your Guns in their European tour which will take place in December.
01.12.23 Germany Leipzig Felsenkeller
02.12.23 Germany Berlin Columbia Theater
03.12.23 Germany Hamburg Grosse Freiheit 36
04.12.23 Netherlands Utrecht Tivoli
05.12.23 France Paris Glazart
06.12.23 Belgium Ghent Vooruit
07.12.23 Germany Nürnberg Löwensaal
08.12.23 Switzerland Aarau Kiff
09.12.23 Germany Wiesbaden Schlachthof
10.12.23 Germany Köln Carlswerk Victoria
Biography:
Since forming in 2020, every single second of music recorded by Koyo has been completely and utterly genuine. Formed in Long Island, New York by five childhood friends who grew up together—vocalist Joseph Chiaramonte, guitarists Harold Griffin and TJ Rotolico, bassist Stephen Spanos, and drummer  Salvatore Argento—Koyo's music is the sound of Stony Brook summers flipping between Taking Back Sunday and Silent Majority while driving to the beach, living in songs that feel just like home.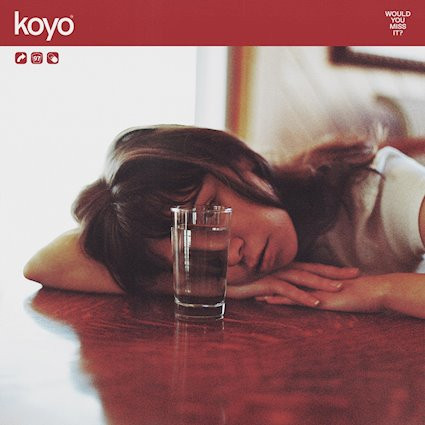 Three years after their formation—and hot on the heels of a slew of acclaimed EPs—Koyo is now taking their next step in the hallowed halls of Long Island hardcore with Would You Miss It?, the band's debut album. Following in the footsteps of the giants of hardcore, pop-punk, and emo that came before them, Koyo are aware of the weight a debut album carries, and they've been slowly crafting it since the band's earliest days. "We really slow-cooked this record," says Chiaramonte. "There are songs on it that go back as far as being written just after Painting Words Into Lines came out. Even as we were writing for Drives Out East, we knew certain songs had to be allocated for certain things. We'd just keep them in the bank and develop them over time."

Despite all the planning and tinkering, there's nothing contrived about Would You Miss It?, because there's nothing remotely manufactured about Koyo. Every element is a genuine representation of the people creating it, and the album was concocted in the most authentic way possible: with five friends, all together, writing songs. "We have great chemistry as a band and as songwriters," says Griffin. "That's the beautiful thing about Koyo, that we can sort of fit into everything. We never try to box ourselves in, because no matter what we do, it will still be us."

To fully immerse themselves in the recording process, Koyo decamped to a barn in rural New Jersey with producer Jon Markson (Drug Church, Regulate, One Step Closer) and spent six weeks digging into every detail of the record. The product is songs like "You're On The List (Minus One)," "Message Like A Bomb (ft. Daryl Palumbo)," and "Anthem," tracks that build upon Koyo's established foundation, but feel sharper, stronger, and even more singalong ready. "This record was a labor of love," says Chiaramonte. "Not just because of the work that went into it, but because of all the life experiences that shaped it. The record was a life-fulfilling, life-affirming thing to make, but it hurt a little bit to make, too."

That's no metaphor. Nearly every day working with Markson was a marathon 10-hour session with the band poring over every single detail to ensure their debut album met their expectations. Meanwhile, Griffin was learning how to walk again after an onstage accident precipitated a major ankle surgery. "The first week we were at the studio, I was in a wheelchair with my foot up and could not do anything," says Griffin. "Three of the songs on the album were written from that wheelchair. I had a physical therapist a mile away from the studio, so I learned how to walk while living at this farm for six weeks."

For Chiaramonte's part, the lyric writing process forced him to dig deep into himself. Musically, Koyo's songs flow out of Griffin and Rotolico as naturally as a conversation at an all-night diner but, for Chiaramonte, writing lyrics proved to be a deeply introspective experience. He'd drive somewhere remote and sit for hours with a notepad until what filled the page was an honest, open-hearted sentiment. "Life's A Pill" is a prime example, and a perfect encapsulation of the range of emotion Koyo captures throughout each of the tracks on Would You Miss It?.

"'That song is about a family member of mine passing away from a drug overdose when I was on my first full U.S. tour," says Chiaramonte about "Life's A Pill." "Ultimately, I chose to stay on that tour. I didn't want to grieve. I didn't want to think about it. It was all so overwhelming that I just opted to shoulder how I was feeling, finish the tour, and deal with it another day. I found that I started to do that with a lot of things because I started to tour full time that year. There were so many interpersonal problems that I was just smothering. That song dives into that. The loss, the avoidance, and what I was doing mirrored what some people turn to drugs for. It's a giant song about loss and escapism."

Would You Miss It? is the kind of album that could only be made by a group of self-proclaimed genre-obsessives. It's why Koyo can seamlessly transition from playing the This Is Hardcore festival to opening for Bayside, because they make perfect sense no matter what bill they're on. That natural musical dexterity is what fostered collaborations with Glassjaw's Daryl Palumbo ("Message Like A Bomb"), Vinnie Caruana of The Movielife ("What's Left To Say"), and Vein.FM's Anthony DiDio ("Flatline Afternoon") on songs where each part was written specifically with the guest vocalist in mind. Each person fits right into Koyo's musical language, and expresses the range of sounds and feelings the band can express at any given time.

Taken in full, Would You Miss It? is the coming-of-age tale of five friends joining together to take on the world. Fueled by a love for music, and a shared creative bond, Koyo sets the bar for the new wave of Long Island bands. As Chiaramonte notes on "Anthem," a lyrical love letter to Long Island scenes of the past, present, and future, "the best is yet to come." Pay attention, because you won't want to miss it.
---