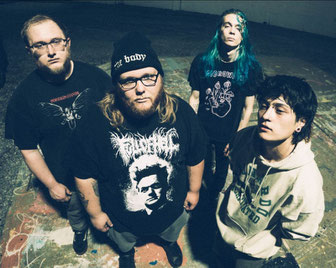 Pittsburgh chaotic hardcore unit KICKED IN THE HEAD BY A HORSE is proud to announce the release of its second EP Sporadic Dystrophy, out now via all major digital service providers.
Recorded and mixed by the band's Larry Rupp, with drums engineered by the band's Jacob Laurine, and the entire EP mastered by Dead Air Studios' Will Killingsworth (Fugitive, Full of Hell, They Leapt From Burning Windows), Sporadic Dystrophy's six tracks are laden with chonky riffs, groove and straight attitude, leading to a corrosive combination of death metal, mathcore and skramz. 
Formed in 2022, KICKED IN THE HEAD BY A HORSE — or KITH BAH — is V. Kavanshansky, Larry Rupp, Nate Hoff and Jake Laurine, who all wanted to blend sounds from bands they love. The band's first EP, W55.12XA, established the band's feral dissonance and set the tone for the band lyrically, diving into subject matter that shouldn't be tough issues, such as gender equality and mental health.
---