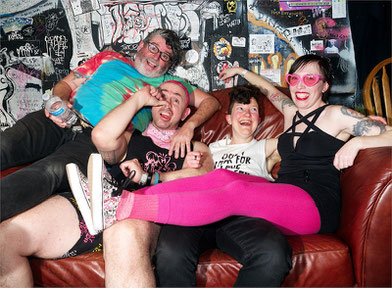 As kinksters from around the world flock to San Francisco for the Folsom Street Fair's 40th anniversary and the culminating weekend of Leather Pride Month, Middle-Aged Queers return with another track to tie up the festivities: "What's Your Favorite Kink?" The band will perform at this year's Folsom Street Fair at the live music stage at 2pm on Sunday, September 24.
"What's Your Favorite Kink?" celebrates the LGBTQ+ tradition of hanky codes, the system of color-coded bandanas for nonverbally communicating one's interests in sexual activities and fetishes.
---
About Middle-Aged Queers:
Featuring ex-members of the Cost (Lookout Records), Fang (Boner Records), the Insaints (Maximumrocknroll Records) and the Shondes (Exotic Fever Records), Middle-Aged Queers are a Bay Area "supergroup" of seasoned punks on a mission to make punk rock gay again. Over their four years of existence, they have taken their talked-about live show from coast to coast, including appearances at Gainesville's Fest, Montreal's Pouzza Fest, Punk Rock Bowling, and more.