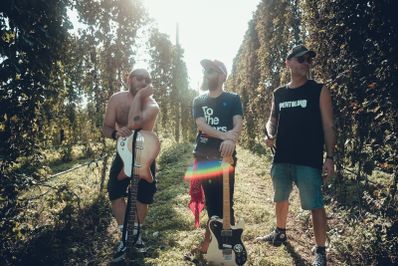 After storming into the scene during the summer with their cowpunk sound on debut single Sweet Alberta, MaveriX are back in full force with a second track titled Josh Brolin, out Oct. 3rd 2023. The new song serves as an anticipation of the Italian trio's debut album, COWPUNK!, which is set to be released on Oct. 20th 2023 via Rocketman Records.
Josh Brolin starts off very strong, doubling on the punk influences the band had already shown on debut single Sweet Alberta, without neglecting the country elements that compose the band's distinct sound. Who is Josh Brolin? Everybody knows him, but no one really knows who he is: in this high-energy and catchy tune, MaveriX portray the Goonies and No Country for Old Men star as the modern American cowboy, the straight-shooter tough guy who tries to steer clear of trouble, but trouble inescapably finds its way to him.
"Songs that are named after someone always makes people curious: who is that person? What will they say? And why?", explain MaveriX about the new song. "Josh Brolin's name and the characters he usually plays are the perfect inspiration for a country/western atmosphere and lyrics. You need the right base though: something intense, simple but at the same time impactful, and that's how the song came to be. It was probably the most immediate song that we wrote: it came together during a mid-week session in our practice space, with a few beers, a guitar riff and a bunch of old stillframes from American movies. This is Josh Brolin. Hell yeah!"
---
---
About:
MaveriX formed in 2022 in the middle of Rural Park South Milan when Drago, Teo and Nix came together to write tunes that combined country music and punk rock, their greatest musical passions. All members spent the last years playing and touring Italy and European festivals with their own projects and bands such as Madddog and The Hickeys. The Italian power trio puts on a fierce live show characterised by tons of energy, good vibes and melody, thanks to an explosive mix of sounds ranging from Green Day and Social Distortion to country vibes à la Johnny Cash and Creedence Clearwater Revival. After releasing debut single Sweet Alberta in June 2023, the band followed it up with a second single called Josh Brolin, and their album COWPUNK! is set to be released on October 20th via Rocketman Records.