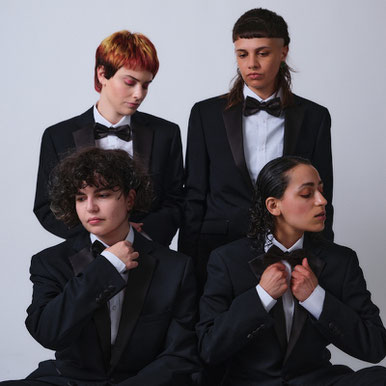 Anglo-Maltese quartet ĠENN reveal new single 'The Sister Of'. It comes with a short-film/music video from Ukrainian director Kyryl Volovych. Debut album unum is out October 6th through Liminal Collective.

'The Sister Of' shows off ĠENN's musical sophistication, which underpins their punk sensibilities throughout the upcoming debut record. Atmospheric guitar arpeggios intertwine, as cavernous production pushes and pulls at intimacy and symphony. Leona Farugia's vocals as ever catch the attention, and deliver an impassioned thematic narrative.
Music video director Kyryl Volovych has had a showcase at the Cannes Lions, has been two times shortlisted for Berlin Commercial 2023 and has an upcoming theatre screening at New York Indie Shorts Awards 2023.

He talks about the collaboration: "From a personal standpoint, this work is a deeply special one for me. We tend to lose ourselves in the whirlpool of events and occurrences that surround us in our daily lives, and war here in Ukraine has definitely brought a tsunami of those. I feel like "The Sister Of" is somewhat a merger of all the contrasting emotions, thoughts and changing outlooks on life that so happen to occur in my mind. And in the minds of millions.

GENN have been insanely supportive of the experimental nature of our concept from the very beginning and to be able to create a project, as meaningful to us as this one is, in Ukraine - has an infinite value to me."
---
And on the themes of the film he says:
"A blend of realism and mysterious surrealism, and elements of sci-fi, is a binding thread for the vision of this project. In the world of the "The Sister Of" - time is an independent reality existing without humans to perceive it.

The main character is somewhat ethereal, a soul travelling in time and space. Through many dimensions. We just happen to see the story of only one of those.

This body of work is a puzzle that's being built as the viewer watches it, yet after completion the puzzle you have put together might be very different from viewer to viewer. And that's what's truly beautiful about cinema."

With three of the quartet being Maltese nationals living in the UK and the band's drummer coming from a Jamaican-Portuguese background, it is important for them to honour these links. Societal and political events at home have shaped their worldview, key concerns being the ongoing pro-abortion movement in Malta, as well as the combative reaction to Pride events. Being in their unique position as migrants from a Commonwealth background now operating in the UK - they feel a responsibility to talk about how race, nationality, and art intersect in the post-Brexit landscape.

Majority queer, the first iteration of the band started 10 years ago. Over this time they have built determined bonds as a self-described sisterhood, founded on instinctive trust and affection. This has lead to a resolutely independent streak - as evidenced by the visual world entirely created by lead-vocalist Leona, as well as the establishment of the Liminal Collective through which they release their music.

'The Sister Of' follows last single atmospheric 'Calypso' April's post-punk stomp 'A Reprise (That Girl)', June's swampy groover 'Days And Nights' and the eerie sing-song of 2022's 'Rohmeresse' in slowly revealing the compelling world they've crafted on their debut album.